For millions of people around the world, it doesn't get much better than enjoying a good meal or good conversation with friends or family over a glass of wine.
But for many people – about three million in the United States alone, according to the Food and Drug Administration – the idea of settling down with a glass of wine can be worrisome.
The wife of St. Louis entrepreneur Alan MacInnes is one of those people. Alison MacInnes suffers from an adverse reaction to the sulfites that are added to most wine to help preserve it. Symptoms of such sulfite sensitivity can include headaches, a rash or flushing of the face, dizziness and respiratory and gastrointestinal issues.
Alan MacInnes says his wife's experience with sulfite sensitivity was pretty miserable.
"She would have a glass or two of wine, go to bed and then wake up in the middle of the night, suffering hot flushes, and couldn't get back to sleep. After some investigation she was actually medically diagnosed with a sulfite sensitivity," he says.
The solution for Alison MacInnes was simple: if she wanted to avoid those health issues – it meant no more wine. That is, until her husband, and his team at St. Louis startup company YourBevCo came up with a better idea.
As an Entrepreneur in Residence at Biogenerator, a non-profit organization that helps grow bioscience companies in St. Louis, MacInnes looked for a fix.
"Someone I knew told me she had a gluten intolerance, and was thinking of ways to remove gluten from beer. That triggered a thought in my mind. Basically it was, 'hang on a minute. My wife has a sulfite sensitivity. Can we see if we can remove sulfites from wine?'"
The answer, says MacInnes, was yes.
And thus was born StiQit™, a six-inch disposable plastic stick that looks a lot like a traditional "swizzle stick." When it's swirled in a glass of wine for a few seconds, the StiQit removes all of the sulfites without affecting the appearance, the aroma, or the taste of the wine.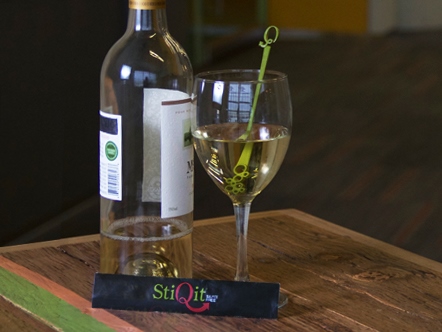 Listen to Alan MacInnes and Marc Braeckel discuss StiQit on KMOX Radio in St. Louis
"Basically," says MacInnes, "you open the package and remove the StiQit.  You introduce the StiQit into the wine and you simply give it one or two swirls, remove the StiQit from the wine, and the sulfites have been removed."
Yes, it is that simple, says MacInnes. "And the ingredients are all safe and FDA approved for use in food and beverages."
MacInnes says his team, which includes a Washington University professor and two former Anheuser-Busch InBev marketing and branding executives, wanted to make the product as consumer friendly and simple to use as possible. "We knew it had to be convenient for consumers, and the last thing we wanted to do was create a device that takes people out of the moment," he says.  "For example, if someone is sitting in a restaurant, they don't want to be the focus of attention and they don't want to make a big deal about what they're doing."
StiQit users will notice something unique about the design of the product, says MacInnes.  "There are several holes at one end that replicate a bunch of grapes and help to aerate the wine. The wine moves through the holes, so not only does the StiQit remove the sulfites, it acts as an aeration device while you're stirring the wine."
Earlier this month, MacInnes and his team launched an Indiegogo campaign, in an effort to raise $50,000 by early May.  Once the group reaches that monetary level, MacInnes says manufacturing will begin, with plans to bring the product to market during the third quarter of this year. MacInnes says the group wants to manufacture StiQit in the St. Louis region, and has selected Permian Plastics, a plastic injection molding company based in O'Fallon, Missouri, for the task.
After that, says MacInnes, the possibilities are endless. He envisions the StiQit being offered online, and in grocery chains, liquor stores, bars, restaurants, and wineries, among other locations.
He says the wineries he's contacted are particularly excited.  "We've talked with several of them in California and Missouri. The main goal was to get a feel for what they thought about the device.  And they were really excited about it. It doesn't interfere with their wine manufacturing or production process. And it restores the freedom of choice to the consumer to enjoy any wine they like off the shelf without the sulfites."
MacInnes says consumers with whom he has spoken say they're pleased too.
"We're very excited by the response – not only from sulfite sensitive people but also from a large group of people who just want to live a healthier lifestyle without sulfites in their diet."
And he's looking forward to the day he – and his wife – can toast to StiQit's success with a glass of wine – sulfite free.