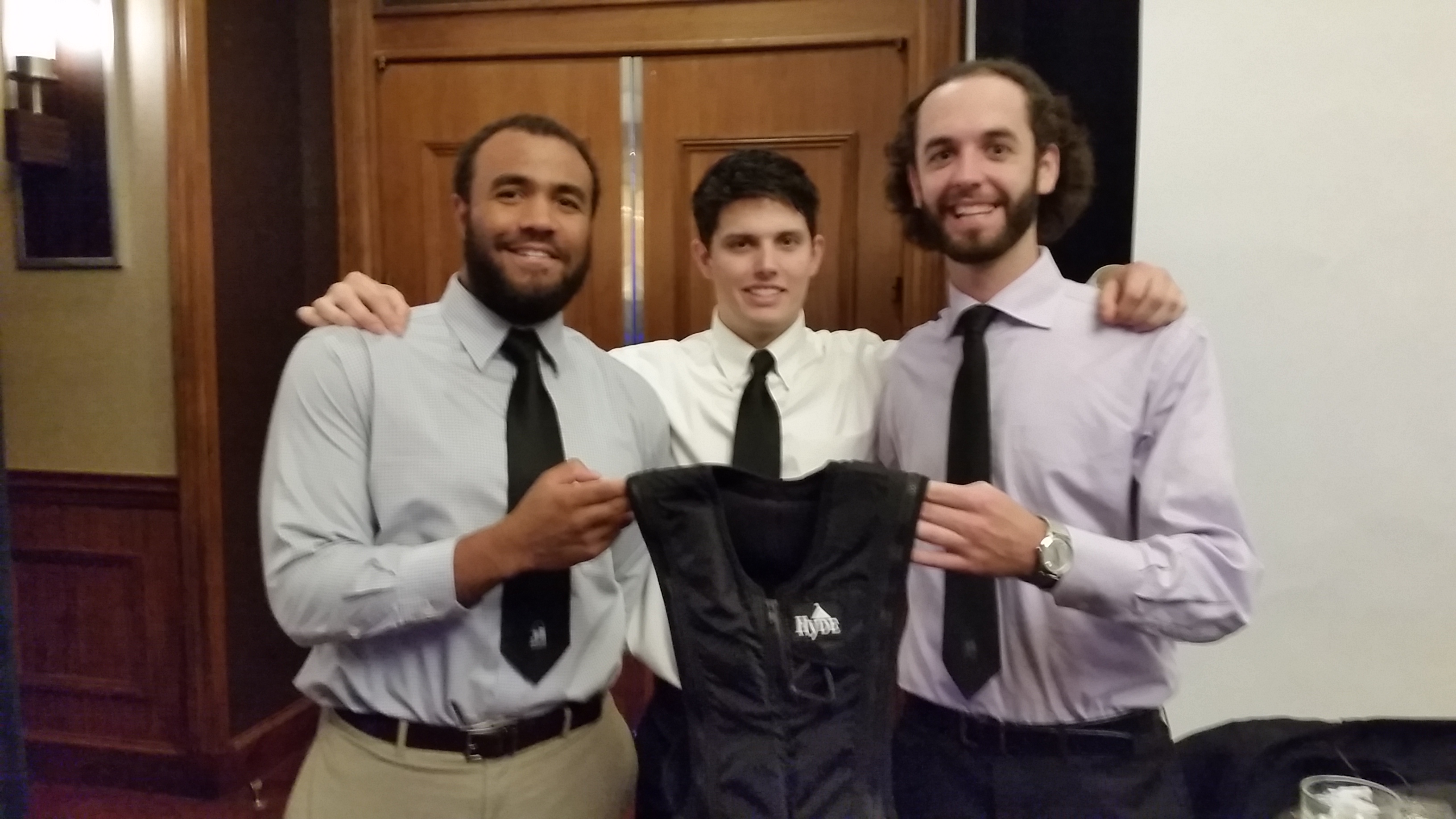 Click here to hear an interview with the producers of The Wingman on KMOX Radio in St. Louis
Like many people from the upper Midwest, Torres Tillman, Pat Hughes and Mike Fox grew up with an appreciation for outdoor sports – a recognition of the enjoyment that activities such as skiing, snowmobiling and kayaking can bring.  The founders of the startup company known as Hyde also were taught to be aware of the sometimes dangerous aspects of outdoor sports, something Fox and Hughes saw first-hand while competing in a triathlon on Lake Winnebago in Hughes' native Wisconsin in 2012.
"During the event, a participant drowned during the swim portion," said Hughes.  "I was incredibly saddened by that, distraught, really.  I did a little research and came to find out that the sport of triathlon actually had a number of swim deaths that year.  The sport has really taken off recently and there are a lot more people taking part in triathlons than in the past."
The issue, according to Hughes, is that, "so many of these people are novices who aren't used to swimming in open water like lakes and oceans."   Triathlon event organizers, he said, "are having difficulty keeping all these people safe in the water.  There's a thousand people in the water at one time and a finite number of lifeguards.  So realizing there was a problem made me think there had to be a solution."
That's where Hyde's product, called The Wingman, comes in.
It's a swim safety vest – about a centimeter thick – that is worn like a traditional life vest, but feels virtually non-existent while being used by swimmers, surfers or boaters.  If a user is in distress, he or she simply pulls a ripcord to inflate a military-grade bladder and float to the surface.
It's important to know what The Wingman is not.  It is not a traditional foam life jacket, said Hughes.
"If you're going to go out in a lake, your options are to wear a very restrictive foam life jacket or wear nothing in terms of safety.  We wanted to fill in the gaps there.  Our product has no innate buoyancy, but if you are having an issue, all you need to do is pull a ripcord and it will inflate the bladder and float you back to the surface.  It's there when you need it."
The Hyde trio launched The Wingman this summer, then took it with them on the road, traveling to as many locations as possible to get the product in front of potential customers, from the Outdoor Retailer trade show in Utah, to the Surf Expo in Orlando, to the ITU Triathlon Expo in Chicago — all, said Hughes, to positive reviews.  "People came up to us at our booth and said, 'Oh my gosh, people finally put some thought into a better life jacket.'"
Based on the feedback received on the road, Hughes says the three will focus on marketing The Wingman to kayakers and standup paddle boarders first.  "They're required to wear a life vest and aren't satisfied with what's out there," said Hughes.
Currently The Wingman is available online, and also in a small chain of triathlon shops in Wisconsin.  Each unit retails for $299, although Hughes says Hyde is working on bringing that price down.  Production of The Wingman takes place in Tennessee and Wisconsin.
This summer, Hughes and Fox, who are from Wisconsin, and Tillman, who is from Minnesota, spent time preparing for their move to St. Louis, where they snagged a $50,000 Arch Grant in Spring.
Just a few weeks after launching The Wingman, the Hyde designers already are looking at improvements.  They note the product must be activated by the user – a problem if that user is injured and rendered unable to pull the ripcord.  "For swimmers," said Hughes, "we're working on creating a vest that would sense when someone is drowning and would go off automatically.  For other users, such as kayakers, we're working on an automatic inflater that will activate the device whenever the user hits the water."
"This isn't the finish line, its really the starting line for this product," said Hughes.