Two life-shaping events formed the foundation of St. Louis entrepreneur Rey Castuciano's startup, Table Wisdom.
The first event happened in 1989, when Castuciano, along with his mother, father and sister, immigrated to the United States from the Philippines. Among the frustrations experienced by the then-15-year-old boy were those that dealt with learning a new language.
"My issues were accent and vocabulary. It was difficult to maintain a conversation flow. When I tried to converse with native-English speakers in high school, I'd often stumble and was made fun of," says Castuciano, who says he learned English in large measure by watching American television programs.
Twenty-three years later, another life changing experience saw Castuciano spending eight hours per day for six weeks in a St. Louis nursing home, tending to his father, who had suffered a stroke.
"I saw the isolation of some of those nursing home residents, but what I also observed was that, while those residents were experiencing physical difficulties, many of them were very lucid, and they spoke well," says Castuciano.
Not long afterward, "I saw a video in which some seniors in Chicago were Skyping with kids in Brazil, for conversational English sessions. That's when it hit me," he says. "We have a lot of immigrants who want and need conversational English and we have this large aging population. Why can't we connect the two, using technology as an enabler?"
Thus was born Table Wisdom, a social enterprise which seeks to connect recent immigrant young adults to the elderly in retirement communities for conversational English and mentoring sessions via video-chat and face-to-face meetings.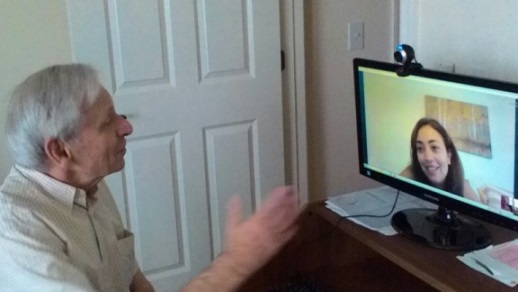 Listen to a discussion of Table Wisdom on KMOX Radio/St. Louis from Tuesday, September 1
Conversational English is the English used in normal daily speech with friends, family and acquaintances.
Castuciano says the program right now is in its pilot stage. He's reached out to the Parkway School District in St. Louis County, along with a retirement community, The Willows in Chesterfield, for the initial connections, looking for commonality in schedules and shared interests among the young immigrants and their older potential mentors.
Among those taking part in the pilot, Castuciano says, "so far what we're seeing from the students and the seniors is that the interaction between the two is much more meaningful in a face-to-face setting, as opposed to a Skype session."
"And that is the way we will go," he says. "Whatever format works best for the students and the mentors is how it's going to be. We'll let them decide whichever is most meaningful for them."
Castuciano says while one of the program's goals is to strengthen the language skills of the young immigrants, there's another benefit to the program for them – learning about American culture. So, a student who may want to learn more about what life was like during the Great Depression or World War II, gains an instant resource via their elder mentor. The program, he says, also helps the elders regain a sense of purpose, improve social connectivity, learn new cultures and technology.
Castuciano says to start, students with intermediate or advanced skills in English will be chosen for the program.
And while Table Wisdom has been established as a non-profit, the company will need to cover operating expenses. Says Castuciano, "Our goal is to develop a financially sound & sustainable model. But, we'll take a look at corporate partnerships and collaborations.  And we might look at the immigrants paying a small connection fee.  But we're still testing the model.
Testing the model that ultimately will build a bridge between two seemingly disparate groups.