Time is money.
No place better demonstrates that adage than a construction job site, where lost time due to miscommunication over work schedules, weather and a variety of other issues can push a project off schedule and over budget in a big way.
Jay Olsen, the founder of startup company Jobsite Unite, saw the lack of effective communication numerous times in more than a decade's worth of work as a carpenter, a site foreman, a crew manager and construction company general manager.
"It was always frustrating to me,' says Olsen, "seeing all of the inefficiencies and mistakes being made because of poor communication, and the method of communication.  So I started looking into a solution."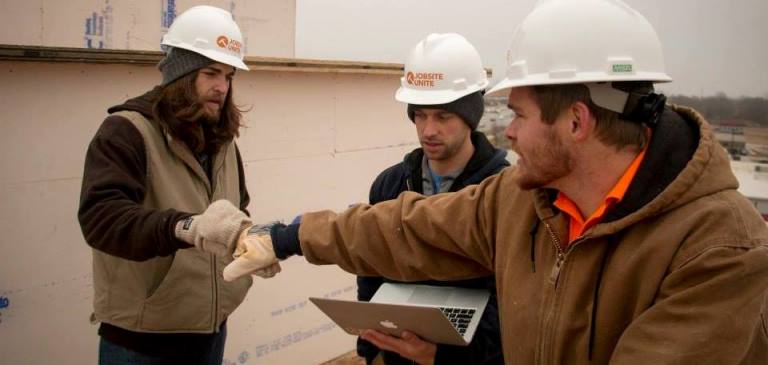 Click to hear Jay Olsen (left) on KMOX Radio
That solution came in the form of a social collaboration tool for the construction industry, and after two years of interviewing contractors, building a team, generating some startup capital and generally validating the concept within the construction market, Olsen and his team last year launched Jobsite Unite. It's a mobile app that's designed to streamline job site communication among workers, foremen, project managers and superintendents, facilitating transparent access to vital information for those working on the job site, and in the back office.
The app lets workers check in with a tablet or smartphone and enables location-based communication while allowing the user to view tasks or images, locate and communicate with contacts, take part in project interactions and stay current with happenings on the job site via a news feed.
Olsen says the app is designed with end users in mind.
"We basically used traditional social media features that already existed and that people on the construction site probably were already using or familiar with, and used that as a way to tailor our product," says Olsen. And indeed, a tutorial video available on YouTube demonstrates that anyone with a grasp of social media tools such as Facebook or Twitter should be able to easily navigate Jobsite Unite.
As an example of how Jobsite Unite would help reduce headaches at a construction site, Olsen cites the potential for trouble that might exist if, say, a dry-walling team was scheduled to finish its work on a Wednesday, with painters coming in the following day to begin their work. If the dry-wall team wasn't able to complete its work on time, a superintendent would have to embark upon the time-consuming and potentially ineffective method of contacting other follow-on subcontractors individually to let them know.
With Jobsite Unite, the information could be posted on the app's newsfeed, giving each of the subcontractors instant information simultaneously, and the ability to communicate about it.
Launched in Des Moines in December 2014, Jobsite Unite scored a major coup earlier this year when it was accepted by Capital Innovators, the top-rated St. Louis accelerator, as one of seven startups for its spring 2015 class. The program puts startups through a 90-day business development program and provides $50,000 in seed funding, in exchange for an equity stake in each company.  In June, Jobsite Unite scored another victory with the announcement it had won a $50,000 award from Arch Grants, the St. Louis nonprofit that awards cash grants and pro bono support services to startups that locate their business in St. Louis.
And while in St. Louis, Olsen says Jobsite Unite is busy reaching out to the region's numerous construction firms, which, he says, have been "pretty receptive to the idea. Because most of these companies are so big and because they're competing with each other, they need to stay on the leading edge of technology. If using new technology can give them a leg up, they're definitely interested in learning about it."