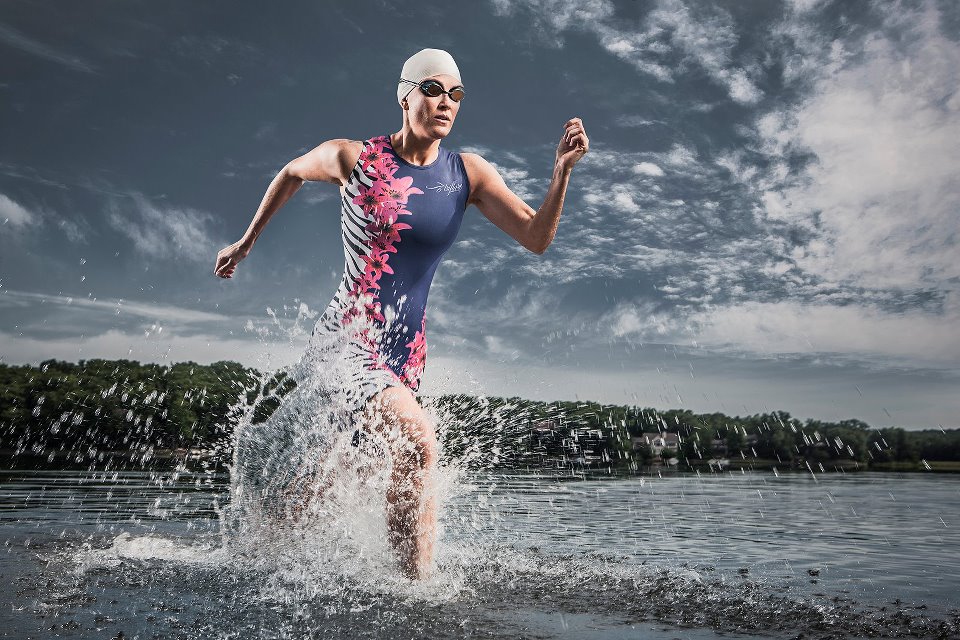 Click  here to hear Triflare featured on KMOX Radio's Charlie Brennan Show
Every innovative entrepreneur has experienced that "aha" moment:  the exact point in time when they realize there has to be a "better way", or, a better product or service to handle a frustrating situation.
For Andrea Robertson of St. Louis, that moment came in summer of 2009.  An avid triathlete, Robertson was queing up at the starting line for her next race, and, she says, "I was wearing a men's trisuit.  There wasn't an option for a feminine alternative."
So she created one.
Three years later, Robertson founded Triflare, a St. Louis startup that manufactures bold, splashy suits for triathletes, and swimwear and running attire for women.  "Before I started Triflare I had been racing for about fourteen years in triathlons.  I had really gotten tired of what was being offered as far as racing gear for women," says Robertson.
As any entrepreneur can attest, there is usually a defining moment along the startup journey – an incident that puts the new enterprise on the map.  For Robertson, that moment may have come when Triflare won a $50,000 Arch Grant in 2013.
"With some of our winnings from Arch Grants, we decided to sponsor a professional triathlete named Alicia Kaye.  She was performing great on the race circuit before Triflare, but once she got in Triflare suits she literally took off – she won every race she competed in but one. So we
were getting a lot of exposure through Alicia."
Kaye, and her attire, caught the eye of officials with the U.S. Olympic synchronized swimming team.  "Synchronized swimming is a very traditional sport," notes Robertson, "but Kevin Warner, the executive director of USA Synchro is trying to bring some new, fresh aspects to synchronized swimming.  So I think bringing in Triflare really helps what they're trying to do."
Earlier this year Triflare finalized a deal to be the official apparel sponsor for U.S. Synchronized Swimming through 2017, an agreement that
means the U.S. synchronized swimming team will be wearing Triflare suits during the 2016 Olympic games to be held in Rio de Janeiro.
Robertson says the choice of Triflare is about fashion, as well as function. "Synchronized swimming suits had traditionally been made with sometimes up to twenty pieces of fabric – sewing all of these pieces of fabric together to make one really beautiful design.  The idea with Triflare suits is that we cut the design into one piece of fabric.  So it weighs less, creates better performance, and looks better."
The Olympic contract is a big, big deal for Triflare, because, Robertson says, "we have since gotten business from other synchronized swimming teams to do their suits.  And we've taken the patterns we've made for synchronized swimming and put them into everyday suits for women, which we sell through on our website."
On November 17th, Triflare announced a 30 day kickstarter campaign.  The company says it will use the $25,000 it hopes to raise in the campaign to provide funding for Triflare Run, the portion of the company that is expected to launch in 2015, making running skirts, running shirts, running shorts and additional running apparel for women.  The company says the funds will be used to support manufacturing and marketing costs.
Being on the world stage at the Olympics might be a new experience, but being on stage, in general, is not new to Robertson, who won the annual Mrs. America competition in 2010.
"You make a lot of public appearances when you are Mrs. America.  Running a business, I do a lot of presentations and I need to be the face of the brand.  That pageant experience helped," says Robertson.
"With synchronized swimming, I understand the pageantry side of their performance.  The experience gave me some confidence to go for it.  When you hold a national title like that, it gives you a little confidence.  Anybody who has created a startup knows you have to have some confidence."