Ask any office administrator, executive assistant or secretary to list the most frustrating aspects of their job and chances are good the task of scheduling a meeting – especially those with large numbers of participants — will be near the top.
There are individual schedules to view and coordinate, time zone considerations to juggle, conference call numbers to maintain, and RSVP's and confirmations to track.
It's the same story, really, for anyone at any level who has to schedule a meeting.  It can be a huge challenge, and it really should be easier.
Soon it will be, if the founders of a St. Louis startup have their way.
Entrepreneurs Paul Heirendt and Matthew LaMons have launched Skejul, a software company that seeks to take the hassle out of arranging meetings.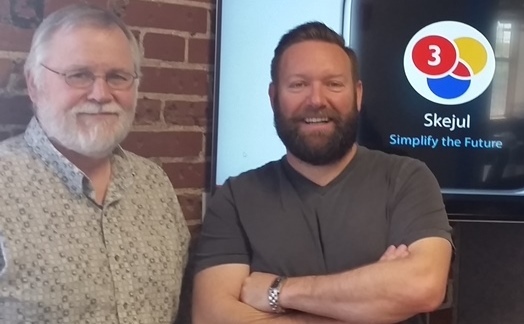 Hear Matthew LaMons (right, pictured with co-fouder Paul Heirendt), on KMOX Radio/St. Louis
With Skejul, say LaMons and Heirendt, the endless back-and-forth of exchanging large numbers of emails to schedule a meeting will be over. "If you want to schedule something you can have Skejul do it all in the background," says LaMons, who explains the company's software will peruse the calendars of participants, then suggest a meeting time, all within seconds, unlike the hours it might take for a human to complete the task.
"You can schedule, you can reschedule, follow an event, connect with a participant, chat with that participant. All this technology is embedded in Skejul," says LaMons.  "It's a predictive computing platform that works on everybody's behalf to help everyone find the best day, date, time and place for a meeting."
He says with Skejul's software taking care of those time-consuming logistical details, meeting participants will be freed up to discuss more important items, like the actual content of the meeting.
"Participants can communicate inside the tool.  But they wouldn't be texting about WHEN they're going to meet. You don't have to talk about all of that. They can talk about the other stuff that is important – the REASON why you want to get together. They'll be communicating about why they're meeting and how to make the meeting the best experience.  Skejul is figuring out the date and time questions — the part that has you going back and forth 20 million times with communication. Skejul is figuring that out."
The beauty of Skejul says LaMons, is that it can be used for any activity, be it a business meeting, lunch with friends, a meeting over coffee, a phone call, or a WebEx.
LaMons says the idea for Skejul came to him two years ago when he was planning a family vacation and grew frustrated in trying to coordinate everyone's busy schedules. "We had 15 people who had known each other their whole lives sitting in the same room, and it took us over an hour to figure out the one weekend we could all go," says LaMons, who adds he experienced similar headaches in scheduling meetings at his job as a mortgage banker.
It's much the same story for Heirendt, a local entrepreneur with corporate experience, who says in one his former big-company positions, "we used to laugh and ask, "is this the meeting or is this the meeting to discuss setting up the meeting?"
From their office within the Center for Emerging Technologies, a mid-town St. Louis startup incubator, LaMons and Heirendt punctuate a demonstration of their product to a visitor by placing their smart phones on a table one atop the other, to illustrate that with Skejul, the devices – not their owners — are coordinating schedules.
Skejul scored a coup last month when it signed Bill Tingle, former vice president for information technology at Enterprise Holdings, as the company's chief technology officer, a move that members of the St. Louis startup community are praising.
LaMons says beta testing of Skejul is set for spring, with a full version set for summer.
For now, Heirendt and Lamons are trying to gain public support for Skejul among individual users first, banking on the belief they will spread the word to friends and business associates, with the platform's popularity then blossoming into corporate and institutional environments.
"We know there will be an enormous value in what we going to be able to do for larger organizations," says LaMons.  "Every time they pay people to schedule events, those organizations are paying for lost productivity.  We know the return on investment will be huge."