Epilepsy, also known as seizure disorder, is one of the world's most common and most serious neurological conditions, afflicting about 50 million people around the globe.
It's estimated that about 70 percent of the world's epilepsy patients can control their seizures by using the two dozen or so anticonvulsant drugs that are on the market.  As long as they take their daily pills, they're essentially seizure-free.
But some 30 percent of epilepsy patients are considered "refractory" to currently marketed medications.  That is, those patients are unable to achieve adequate seizure control using existing drugs, or combinations of existing drugs.
It's that smaller number of patients on which St. Louis startup company Tansna Therapeutics is focusing.
From laboratory facilities within the Cortex business incubator complex in mid-town St. Louis, Tansna's team is refining experiments that were launched four years ago at the University of Iowa by the company's co-founder Max Baker, an anesthesia researcher with a PhD in Pharmacology and a strong focus on medicinal chemistry.
"Max is very interested in anesthesia drugs like propofol, which are commonly used to put you to sleep when you're having surgery," says George Capps, the director of business development for Tansna.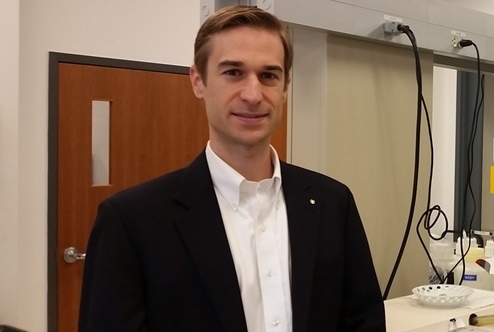 Hear George Capps, the director of business development for Tansna, interviewed on KMOX Radio Tuesday, October 6
Baker was trying to build a better propofol – by making chemical modifications to the well-known drug that would preserve its anticonvulsant activity and reduce its sedative effects.
"Propofol", says Capps, "is  known to have very powerful anticonvulsant properties, and in fact it's frequently used in emergency rooms for patients who are experiencing uncontrolled seizures. These are patients with difficult-to-treat seizures who could die if their seizures aren't stopped by drug intervention.
"They're seizing out of control, if you can't stop the seizures any other way, you give them propofol, and that often works," he says.
However, notes Capps, propofol is also a highly sedating anesthetic that can only be used in a hospital setting, where patients are carefully monitored. It can't be used as a daily medication by epilepsy patients due to its sedative effects.
Continued experimentation with the drug produced compounds that, in animal studies, appear to retain the clinically validated anticonvulsant properties of propofol, yet without the sedative effects of the parent molecule.  "These pre-clinical studies suggest that Dr. Baker succeeded in separating the anesthetic from the anticonvulsant properties of propofol," Capps explains.
"That's the genesis of the solution we're bringing to bear on this unmet medical need."
In effect, Tansna is creating a new drug to treat those patients for whom current medications don't work.
Capps says, "We're honing the chemistry of the compounds right now.  Our goal is to narrow the funnel down to our first clinical development candidate sometime next year."  A clinical development candidate is the drug that technicians plan to introduce into clinical trials for human testing. Capps says the hope is that clinical trials can begin sometime in 2017.
Even if development proceeds smoothly, says Capps, don't look for the drug on the market until several years after the initiation of clinical trials, due to the rigorous nature of the FDA approval process.
And if and when the product does go to market, it's unlikely Tansna will be selling it.
"Our goal," says Capps, "is to be acquired by a larger company after we demonstrate proof of concept in early- to mid-stage clinical trials.  That's actually a pretty typical path for a biotech startup. The large pharmaceutical companies specialize in running the late-stage clinical trials, and then marketing the drug once it's approved.  They have the global sales force and the deep pockets to run the late-stage trials."
Until then, the Tansna team continues working the process, and doing so from its St. Louis headquarters, with some solid financial footing as a foundation.
"We've raised around $850,000 since the inception of the company, about $180,000 of that in the form of a grant from the National Institutes of Health. So that constitutes some validation of our technological approach."
Other investors include the Biogenerator, the St. Louis investment group that supports health and plant sciences companies, and The Missouri Technology Corporation, a public-private partnership created by the Missouri General Assembly to promote entrepreneurship.
Additional funding is being raised now through the iSelect Fund, which invests in promising early-stage companies.
It's all part of a plan, says Capps.  "The company moved to St. Louis in 2013 to be part of the burgeoning life science ecosystem in this area, and because of that more favorable funding environment."
It's a decision that appears to be paying dividends for Tansna and, if all goes well, will ultimately reward millions of patients living with epilepsy.