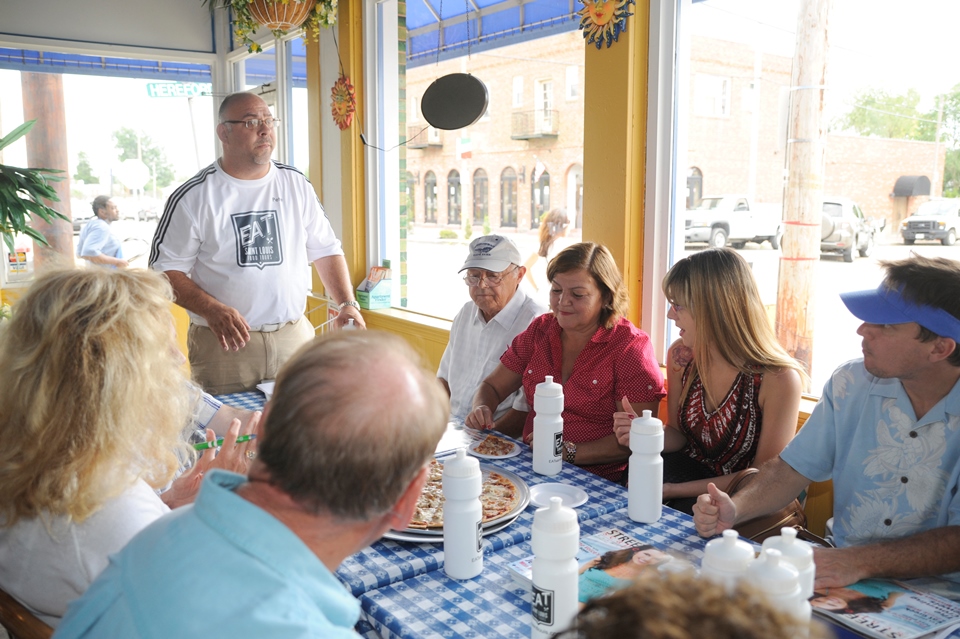 Click here to hear Pete Manzo on KMOX Radio's Charlie Brennan Show
For more information and tickets go to the Eat Saint Louis website
For more than forty years, Manzo's, an Italian market located at the corner of Devonshire and Macklind avenues in South St. Louis, stood as a local success story – an iconic home-grown business founded by Sicilian immigrants and kept alive by their children.
Manzo's thrived for decades as a St. Louis institution, selling Italian sausage, cheese, wine and other delicacies to local restaurants and individuals.
A family tragedy changed things in 2008, and Manzo's closed.   But happily, the family's dedication to good food lives on, in an innovative way.
"My parents opened the store in the Little Italy section of downtown St. Louis in 1955," says Pete Manzo, who, with brother Paul, took over the operation of the South St. Louis store in 1999, some thirty years after it relocated to its south side location.
"Paul was listed as president and I was vice president of the corporation.  I was in charge of the retail division and he was working the wholesale distribution to restaurants, but we would alternate and help each other out when we needed to."
In July of 2008, Paul Manzo died suddenly of a heart attack, at age 45.
And, says brother Pete, "it all fell to me.  That made me redirect and refocus on what I wanted to do.  There were no heirs – nobody else to take over the business. So I sort of struggled with the idea of 'do I carry on the mantel just to carry it?', and 'am I really getting enjoyment out of what I am doing?'"
"While I did enjoy it, it really wasn't what I wanted to do, ultimately," says Manzo.
So Pete Manzo closed the retail portion of the family business in fall of 2013, concentrating strictly on producing the family's famous Italian sausage in bulk to food distributors and restaurants.
But it was two subsequent trips to Tuscany, Italy, that convinced him to take an innovative plunge.
"On one of those trips, for three months, I 'shadowed' a woman who conducted food-centric tours of the Tuscany region.   I've always been very interested in preserving traditions, especially cooking traditions.  That trip was fascinating, and pretty life changing.  It was enough to make me bite the bullet and start focusing on the direction I wanted to go, which was tourism, and specifically food tourism, which has been gradually gaining momentum," says Manzo. "A natural place for me to start and showcase both my heritage and food background was 'The Hill.'"
For $45, EAT Saint Louis Food Tours, Inc. offers participants three hour, two mile tours of The Hill, walking them through and allowing them to sample menu items from the landmark food establishments of one of Saint Louis' most colorful neighborhoods, as well as offering them informational tidbits about The Hill's historical, architectural and cultural amenities.
He notes that right now individuals are responsible for most of his business.  But he adds that more and more corporate clients have been contacting him for private tours – companies that want to do something unique for their offsite team building events or want to entertain their business clients and guests.
And having conquered The Hill, Manzo is now setting his sights on another iconic St. Louis neighborhood:  Soulard, the historic French community located just south of downtown.
"I'll be closing this season of food tours at the end of November.  I plan on working on the Soulard plan over the winter, with a start of those tours planned for next April."
Manzo says he expects to handle tours of both areas by himself, initially, but could hire additional help if there is enough demand.   "But, I'm a very detailed person," says Manzo.  "I'm pretty specific about my expectations.  Anybody I'd hire would have to be as passionate about food and love St. Louis as much as I do to give these tours."
It has been said that anyone who can turn their passion into a business will never have to work a day in his life.  Pete Manzo appears to be on the way to making that statement a reality for himself.
"What I really enjoy about this business is the ability to meet new people and actually showcase what I love about St. Louis, which is its great neighborhoods and wonderful foods," says Manzo. "  It's truly a pleasure to expose people who haven't been here before to what I call our city's 'treasures'."