When people ask Roberto Garcia to describe the technological concept behind his new business, he references Shazam, the app that allows customers to point their smartphones at a radio when a song is playing, then feeds back to the user data that identifies the name of the piece of music they're hearing.
Garcia's new app, called LISTO similarly uses a technology that enables the smartphone's microphone to capture audio in an effort to enhance the entertainment experience.
But LISTO doesn't target music aficionados, it aims to reach movie lovers.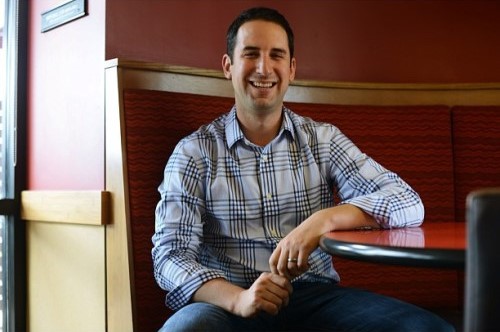 Click here to hear Roberto Garcia on KMOX Radio, St. Louis (Photo by Pachi Tamer)
LISTO's proprietary technology allows patrons in a theatre who are watching a movie in one language to use their smartphones to play the soundtrack of the film in another language. In a matter of seconds, the app finds the correct audio track, then syncs sound with picture.
Garcia came up with the idea after visiting Texas in 2010. Seated in front of him in a theater were a father and son who were watching the movie Iron Man 2. As the movie began, the boy, who was bilingual, began to translate the movie, line by line, for his father, who apparently spoke only Spanish. An usher noticed the whispering and ejected both father and son for making too much noise.
"I thought," says Garcia, "how sad it was that this gentleman, who probably was saving for maybe a month to bring his kid to the movies, was getting kicked out. Going to the movies is one of those simple pleasures, and here's a father who wasn't able to do that with his son."
For LISTO's customers, the process of using the app is simple. It's free, and once it's downloaded, the app asks for information similar to requests made of those who download music apps. In LISTO's case, users are asked for their "preferred" language. "You tell the app what movie you're watching, then hit the 'sync' button. The app listens to the sound waves, and since it knows the name of the movie, you start hearing a pre-recorded version of the movie in the language you've pre-selected. You plug in your headphones and you're set."
Listo's benefits, says Garcia, are many.
Noting there are more than 160 million people in the world who don't speak the dominant language of the area of their residence – including more than 30 million in the U.S. who don't speak English – Garcia says the app will benefit both that audience, as well as theater chains and film producers by getting people who otherwise would be unable to watch an in-theater movie into the movie house.  LISTO is specially designed to be non-disruptive to other theater patrons, by only functioning when headphones are plugged into a personal device.
Garcia says there are two other audiences at whom LISTO is aimed.
One of them is movie patrons who are hearing impaired.  Says Garcia, "Someone wants to go to the theater but for them, the sound at the theater isn't right.  They can adjust the sound to their preference by using the app."  The third audience is international travelers.  "There are over a billion people who travel internationally each year.  That market is huge.  Just like a music app, you download files from the Internet, but don't need an Internet connection once those files are loaded. So, you can listen to the soundtrack on an international flight in your language of preference."
Garcia, who was born and raised in Mexico but has spent the last ten years in the U.S. working in the multicultural marketing field for a number of products, including Budweiser and Bud Light, says major movie studios typically prepare soundtracks in about two-dozen languages for release internationally. He says he is currently working to secure agreements with major movie studios for use of the soundtracks and plans to launch LISTO this summer.
LISTO is currently in the competition to secure a $50,000 Arch Grant this spring.  If it happens, he would be in the company of several other Arch Grants winners, all of whom are, like LISTO, currently housed in the T-Rex incubator building in downtown St. Louis.
Garcia says he's made several trips to Hollywood to discuss the LISTO concept with producers, and he's had discussions with theater owners as well, all eliciting positive reviews.
Meaning LISTO appears to be a good idea, in any language.