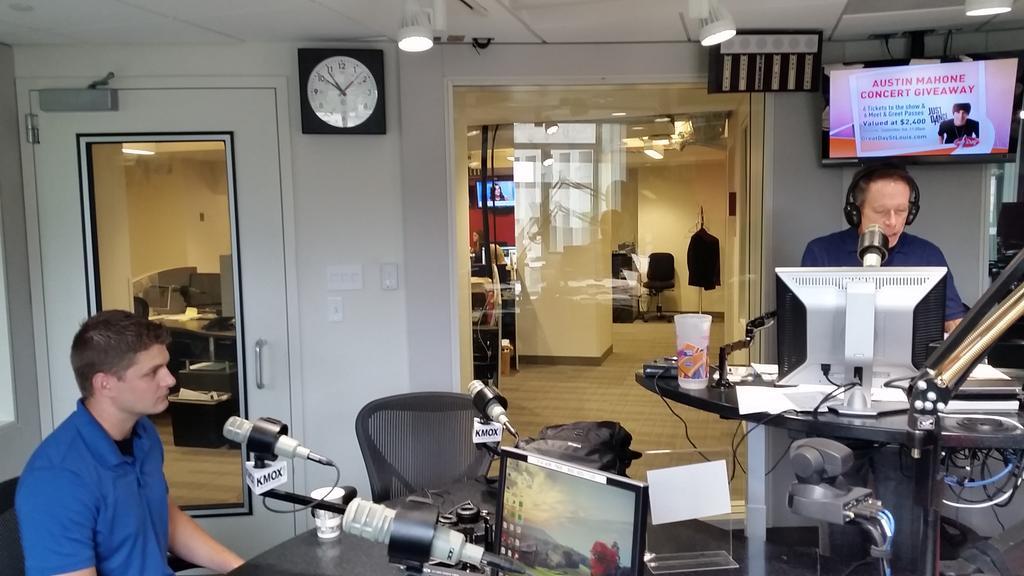 Click here to hear MeterGenius co-founder Ty Benefiel on KMOX Radio's Charlie Brennan Show
For many, the searing heat that descended upon the Midwest in late August was bad enough.  In September, insult will be added to injury when millions of homeowners find the byproduct — sky-high electric bills — in their mailboxes.
While St. Louis-based startup MeterGenius can't do much about the whims of Mother Nature, the company says it can help consumers nibble away at those soaring electric costs.
It's the cornerstone of its business.
MeterGenius, founded in 2013 by a group of Northwestern University students, provides tools and incentives for homeowners to save money on their electricity bills by giving them the ability to track their electric consumption through a website.  MeterGenius allows consumers to measure their electricity use by the hour, and gives them tips on how to keep usage low. The company even provides incentives like gift cards and credits off of utility bills to users who hit monthly energy goals.
To fully understand how MeterGenius works, one must first understand the concept of automated "smart meters", which, in some areas, are replacing the traditional "spinning wheel and dials" meters most of us are familiar with.
Smart meters use radiofrequency (RF) transmitters to send usage information back to a utility company on a regular basis, often many times a day.  Electric companies have touted their use as a way for electric providers to operate more efficiently and more cheaply.
MeterGenius co-founder Ty Benefiel says most utility companies are keeping that data in house, using it for more accurate billing and to track potential theft, but not using it to benefit their customers.
That's where MeterGenius comes in.
"We're paid by the utility company to come in and analyze that smart meter data for homeowners," says Benefiel.  "Most homeowners aren't math nerds like we are.  They don't want to sit there and analyze the data points about their electricity use.  That's what we do. We analyze the data, and we can suggest habits for users as to how they can become more energy efficient."
In terms of a practical application, Benefiel says, "we can look at your average weekday load curve – your Monday through Friday electricity usage.  If we see that in the middle of the day, when you aren't at home, your electricity usage is still high, it might mean your thermostat is set at an inefficient level."  Or, says Benefiel, you might be a victim of "vampire energy," electrical power consumed by appliances while they're offline or idle.  At no charge to the consumer, MediaGenius offers tips to homeowners to reduce their usage.
If the thought of sharing information via smart meters makes consumers uncomfortable, Benefiel says it shouldn't.
Regarding the privacy concerns raised by some smart meter opponents, Benefiel notes, "we put out more personal data about ourselves on social media than anything that utilities are gathering regarding electricity use.  People aren't concerned about the information they share on social media because they find value in what Google, or Facebook, is giving back to them.  We think the concerns about a utility company seeing their electric usage data will go away once people realize the value they're getting back in savings."
One challenge for MeterGenius is that it depends upon customer use of smart meters.  In the company's home base of St. Louis, the region's primary electric provider, Ameren Missouri, doesn't use smart meters, although Ameren Illinois has installed some smart meters, or as it calls them, "advanced meters", in a portion of its service area.
Benefiel views this as less a hurdle, and more an opportunity.   "Once policymakers see there are benefits to smart meters – and that a company like ours is providing one of those benefits —  there will be more acceptance (of smart meters).  If utilities can show those benefits in terms of cost saving, there will be a lot higher level of acceptance by the residential community."
Some consumers also have raised health concerns, since smart meters depend upon RF transmissions to gather data.  However, the American Cancer Society notes on its website, "The actual risk of harm, if it exists, is likely to be extremely low."
Earlier this year, MeterGenius began a pilot program with Texas-based energy company Infinite Energy, which has delivered the product to more than 3,000 of its customers. The program already has saved those customers an average of six percent off their electric bills, says Benefiel.
So far, MeterGenius has avoided fundraising by winning $135,000 in business competition grants, including a $50,000 Arch Grant in May, prompting the company's move from the Chicago area to St. Louis.
Next up for MeterGenius, says Benefiel, is creation of a mobile app, something he says his customers have been asking for.
Could longer term goals for MeterGenius include providing the same service for other utility customers, such as water and gas consumers?
You bet, says Benefiel.  "There are gas and water smart meters out there, but not in the numbers of electric meters.  But as technology progresses and more people start seeing the benefits of smart electricity meters, some other utilities are going to join in.  It would be a natural progression for us to provide similar analyses for gas and water consumers"