There aren't many better ways to generate positive buzz for your budding startup company than to present the nuts and bolts of the operation at one of the most iconic and prestigious locations in America.  Just back from Washington, D.C., and their presentation at the first White House Demo Day, Sparo Labs co-founders Andrew Brimer and Abby Cohen took time to answer a few of our questions about the experience, which saw 30 entrepreneurs explain their businesses to an audience that included White House administrators, science advisors, and government and non-profit leaders. Brimer and Cohen exhibited Wing™, which helps users control their asthma or other respiratory condition using an app and pocket-sized sensor that measures their lungs.
INNOVOX STL: There are thousands of innovative startup companies around America.  How were you able to get on the radar screen of the White House?
ABBY COHEN/SPARO LABS: We were fortunate to have been be nominated by the National Institutes of Health (NIH), which was the organizer of the first student engineering competition we won back in 2012.  We've kept in touch with NIH, and the nomination, combined with our work in helping to solve the huge and growing problem of asthma in the U.S., likely helped the White House staff select us for an invitation.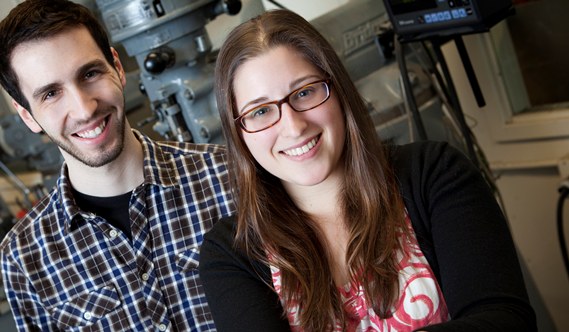 Hear Sparo Labs' Andrew Brimer and Abby Cohen on KMOX Radio
INNOVOX STL: You've certainly pitched your product in the past to potential investors, mentors, customers, etc.  What was it like doing it at the White House?
ANDREW BRIMER/SPARO LABS: It was an energetic audience.  One highlight was the appearance of Daymond John, of Shark Tank. White House CTO Megan Smith interviewed us about Wing and our team at Sparo Labs. Unfortunately, the President only had time to visit a couple of the startups that were exhibiting at the Demo Day before giving a speech about the importance of entrepreneurship and growing diversity. He asked some great questions to really understand the companies and the backgrounds of the founders in terms of what motivated them to take the leap and start their companies.
INNOVOX STL: St. Louis certainly has seen its share of national publicity, both negative and positive in the last few years. Did you feel any added obligation to try to tell the more positive story – that of the growing entrepreneurship movement here?
ABBY COHEN/SPARO LABS: It was great to represent St. Louis on the national stage, and we certainly spoke about the burgeoning community that's grown around entrepreneurship. We met dozens of other entrepreneurs from all walks of life from across the country and learned about the game-changing companies they're building — each unique — but all with tremendous potential to make a real impact. The importance of inclusion and diversity in building new companies was a central theme to the event, and we were honored to be an example of the success that's possible when diverse perspectives work together to solve tough problems.
INNOVOX STL: We've all heard the stories about college graduates who get their degree in St. Louis then leave town to advance their careers.  What made you want to stay here?
ANDREW BRIMER/SPARO LABS: St. Louis has been my home growing up, so I will always be a champion of the city and the community of people here. But for Abby, coming from Michigan, we had to make the conscious decision to begin building our company here after graduating. We've had a lot of great support from our alma mater, WashU, and everyone there is really excited about making entrepreneurship a priority in curriculum and practice. We also were in the second class of Arch Grants, which is another fantastic organization that's really helping to bring talented people and great companies to the St. Louis region, and helping keep local startups in the city. Asthma is also a huge problem in St. Louis, double to triple the national average in some parts, and there's a great network of patient advocacy organizations and asthma programs such as the Asthma and Allergy Foundation of America. St. Louis also has a broad community of top ranking hospital systems, researchers and healthcare companies, which makes it a great location for potential conversation and partnerships.
INNOVOX STL: The Princeton Review just ranked Washington University as 16thbest among all college entrepreneurial programs in the U.S. What did they provide for you?
ABBY COHEN/SPARO LABS: Washington University has been a huge supporter of our team at Sparo Labs. Over the last few years, WashU has really made entrepreneurship a focus and has created a number of programs and curriculum to help students learn about starting a company and getting hands on experience. We participated in the Hatchery Course with Cliff Holekamp, as well as the Olin Cup Venture competition, and the inaugural Engineering Discovery Competition. We have a small but growing team, and currently every one of our full-time staff is a WashU grad, which is a fun bit of trivia. We stay in touch with a number of folks from the Engineering School and Skandalaris Center.  They're excited to see our company progress and they help out however they can along the way.
INNOVOX STL: What do you see as areas to target for improvement?  Where could St. Louis do a better job?
ANDREW BRIMER/SPARO LABS: As the president highlighted during his White House Demo Day remarks, from a national standpoint, inclusion and diversity in entrepreneurship can be improved upon, and for St. Louis this is certainly still the case. However, it's encouraging to see programs such as Prosper, the Bioscience & Entrepreneurial Inclusion Initiative, and Arch Grants helping to foster an inclusive entrepreneurial community.