When it comes to providing entrepreneurs with innovative ways to pitch for funding, Mark Cuban, Barbara Corcoran and Daymond John have nothing on Tim Hayden, the director of the Center for Entrepreneurship at Saint Louis University. The stars of the popular ABC program Shark Tank may have the TV ratings that Hayden doesn't, but they can't match Hayden and his team when it comes to creativity.
Case in point:  On Saturday morning, April 11, ten Saint Louis University entrepreneurs, selected from a competition among the school's 16,000 students, will make business pitches to about a dozen wealthy potential investors.  Those requests for support will be made not in a sterile classroom or a stuffy boardroom, but on the field at GCS Ballpark, the home of the Gateway Grizzlies Frontier League baseball club, located across the Mississippi River from St. Louis.
The entrepreneurs will be standing on the pitcher's mound.  The potential investors will be standing at home plate.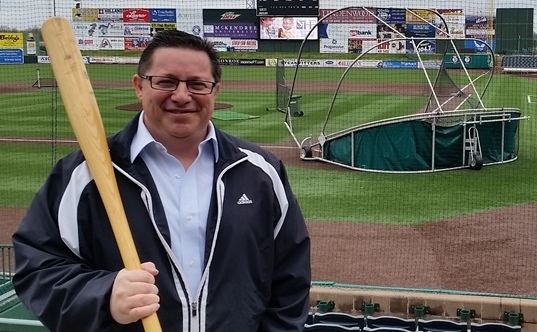 Click here to hear Tim Hayden on KMOX Radio
The event is called — wait for it — "Pitch and Catch."   Each entrepreneur will bring with him or her a slide presentation that will provide details of their product or service, with the slides projected on the stadium's giant outfield video board. Each entrepreneur gets ten minutes to present, and while the most likely outcome of the event involves the "catchers" seeking to continue discussion with the "pitchers", if interest is keen enough, Hayden says there's also the possibility that a really good idea could garner support from an investor on the spot – a diamond, produced literally on the diamond.
"Our Entrepreneurship Center team actually came up with the concept," says Hayden. "We're a town that's baseball hungry. The entire baseball season is kicking off.  So we decided to tie it together in such a way that allowed the whole investor pitch to occur from the pitcher's mound."
It's not the first time Hayden's office has walked down this creative path:  Last September, the Center launched a Pure Idea Generator Challenge – taking the top 24 students from a competition across SLU's campus, giving them a problem to solve, then placing them on Big Ely, three-story-high Ferris wheel that rests atop the City Museum in downtown St. Louis, for a 30-minute ride with a "brainstorm buddy" to find a solution to the problem.
"As soon as the participants got off the Ferris wheel – hopefully they didn't throw up – the teams pitched their ideas to a blue ribbon panel of judges who were sitting on the roof of the museum."  The idea had legs.  Francis Slay, the mayor of St. Louis, offered the top three teams a chance to work on another problem – this one dealing with the retention of college graduates in St. Louis – and had the teams pitching their solutions to Slay and his senior staff at a city hall meeting the next day.
"Our mantra at the Center is KISS – Keep It Simple and Sexy.  And so we don't do a competition or an event that is normal or can be found in any other American university," says Hayden.
The idea that has generated the most attention for Hayden's team is one called the 'Real' Elevator Pitch Competition.  Launched in 2012, the program asks students to make their business pitches to actual investors on real elevators in Missouri's second tallest building, the 42-story One Met Square building.  The competition is held on a Sunday, giving each entrepreneur about 40 seconds and 12 elevator rides to make their "pitch."
"The whole concept," says Hayden, is, "'if I were stuck on an elevator with some senior executive, whether I'm looking for investment dollars, or a job, or I'm just looking for a customer, would I be able to convince someone on an elevator – literally on a 40 second ride, to buy?'  So the goal is to entice them to set up a future meeting."
Last December the competition, which initially was offered to Saint Louis University students exclusively, was opened up to students of all Missouri and Illinois colleges and universities.
If you are thinking all of these ideas sound like perfect fodder for a television reality show, don't think Hayden hasn't thought of the idea himself.  He's had discussions with a St. Louis production company about the 'Real' Elevator Pitch concept.  Although those talks never produced a show, he says he's open to further talks about the idea, in part to create more awareness of the school's entrepreneurship program, which has been in place for more than 40 years, making Saint Louis University one of the first schools in America to begin teaching the subject.  The SLU entrepreneurship program is currently ranked 13th best in the nation by U.S. News and World Report, and has been ranked in the top 25 for 23 straight years.
Until then, Hayden and his team will continue putting the finishing touches on the April 11 "Pitch and Catch" idea, and will look ahead to conducting a business plan competition in May, which, so far, has yet to generate an offbeat, creative angle similar to the other programs.
"We probably will," says Hayden.  "We just haven't gotten our hands on that one yet."