Do you have a great idea you think might be a money maker, but you're not sure where to turn to find out if your hunch is a good one?
A St. Louis entrepreneur says he can provide you some direction, starting next month, via a new online video program called "Cash or Crash."
Entrepreneur Dr. Renato Cataldo has already founded one video-based company in St. Louis. His CrazyForEducation.com start-up collects instructional videos from teachers and distributes them to students and parents for a fee, with the teachers who create the videos sharing in the revenue.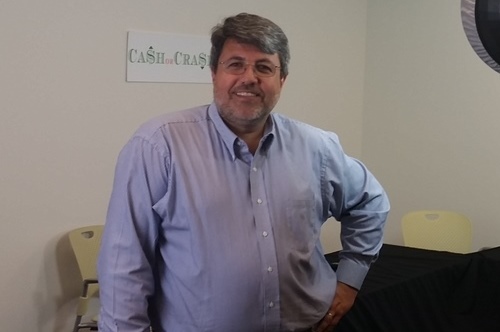 Hear founder Renato Cataldo's interview on KMOX Radio from Tuesday, 9/22
Now Cataldo is turning his attention to those who have a concept, but no forum to find out if their idea's worth pursuing. He says his aim is to reach "the average person, from service worker to professional.  The projects we'll review may not be the next $100 million business, but they'll be just as important to the individuals who share their stories and their passion."
Here's how it will work:  the person behind the idea will fill out an online form at CashOrCrash.com, and, if selected to continue on to the next phase, will take part in a pre-interview with Cataldo.
"We're looking for people who are still at the idea stage.  We're not interested in people who have already started their business, or are farther down the road," he says.
"The other thing we're looking for is people who can improve their lives through their ideas — the people who would go from being a $10 an hour person to one who can make $50,000 a year with their idea, and perhaps buy a home – something that is going to change their lives."
Each person selected to move on to the next phase will take part in a 15-to-20 minute video session, recorded in a studio setting with a live audience. Recording will take place at The Helix Center, the St. Louis Economic Partnership's business incubator in Creve Coeur, with the first recording session scheduled for the evening of October 28. Each program will be presented on the Internet within a few days of recording.
Cataldo and his co-host, Judy Sindecuse, CEO and managing partner at St. Louis tech accelerator Capital Innovators, will ask the questions.
Questions such as, "do you have a background in what you're proposing? What's your strategy to get there?  Our role is to chime in and say, 'these are some of the things we think you have to do.  If you do them maybe you have a chance. If not, you may crash,'" says Cataldo.
Cataldo says interviews will focus on the foundational elements of a business start-up:  the idea, strategy, people, and cash. "Our goal is to make the interviews informative, fun, and sometimes controversial," he says.
Cataldo says there will be a bit of an avant-garde element to the show, since he and Sindecuse will conduct each program basically unscripted, and won't compare notes ahead of the programs. He says the public will have an opportunity to get in on the discussion.  "If Judy and I don't agree, we probably will ask the audience to weigh in. Ultimately we'll have a voting option on our website. So after you watch a segment on our website, you'll get a chance to vote and have an online discussion."
Right now, the program's "crew" consists of Cataldo and his 23-year-old son Andre, as the audio engineer.  Eventually he says he would like to take the show on the road, helping entrepreneurs in cities such as Chicago, Kansas City and Nashville. And in an era in which many reality shows present content that contains a rather hard edge, to say the least, Cataldo says "Cash or Crash" will be honest, but not brutally so, "because we want to see everybody win, ultimately."
Those interested in being in the audience, or on the show, can sign up for either option at www.CashOrCrash.com.