When Chico Weber describes the nature of his growing business, listeners should prepare to hear the word "reshaping" sprinkled liberally throughout the conversation.
It begins with the name of Weber's company – Squarefruit Labs. The title comes from a two-decades-old practice by some Japanese farmers of growing watermelons that are square. Those farmers insert the melons into square, tempered glass cases while the fruit is still growing, producing a melon that can more easily be stacked, transported, displayed, and placed on a refrigerator shelf.
Squarefruit Labs may sound like it deals in produce, but in fact, the company's mission is "re-shaping" — particularly in the area of 3-D printing, the process of making or "printing" three-dimensional solid objects from digital designs. "We want to actually re-shape the way people 3-D print," says Weber.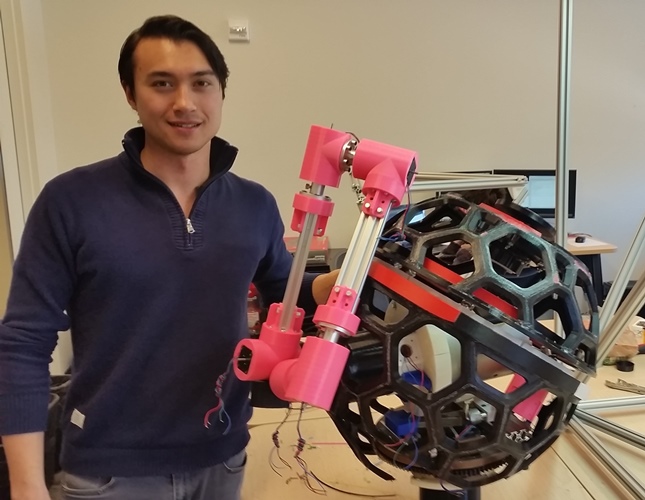 Click here on Tuesday March 31 at 10:50am CDT to hear Chico Weber describe his business and Persona, pictured above, on KMOX Radio's Charlie Brennan Show
As most 3-D print devotees know, the technology has come a long way since its early days, when printers could produce little more than plastic toys and trinkets. 3-D printers now "print" using materials that range from titanium to human cartilage. They can now build larger components and have greater precision at high speeds and low cost.
Weber says his company can handle the basics: "A client with a construction company wanted some very detailed trim for an antique house they were restoring," he says. "It would have cost them about $200 per foot to have it hand carved. They only needed eight feet, so they came to us and we printed it off for a fraction of the cost."
But he says Squarefruit Labs has much loftier long-range goals. Weber and his team want to change the face of manufacturing with a product they call, "Persona" – a robot equipped with a mechanical arm and several camera systems that will allow for advanced manufacturing techniques that include milling, material handling, and 3-D printing. "What used to take full factories and multiple layers of prototyping, we'll be able to do with Persona on a single, streamlined platform," says Weber, who adds the technology is being tested right now in the areas of advanced manufacturing, agriculture, renewable energy and biomedical engineering.
"Integrating a robotic arm into a system of printing allows us to do what we call "free-form" printing," says Weber. "It means you aren't really focused on doing products layer by layer.  You can actually draw shapes in the air instead, which makes them much quicker, and allows for much larger prints. So we're able to have a very small, compact machine that can print a two-meter diameter ball, for example.  That's much larger than any of the commercially available printers that are on the market.  Being able to do that means we can embed electronics directly into 3-D printouts. That's something that really hasn't been done in industrial printing."
Another of Weber's goals is to create an atmosphere in which non-techies – that is to say most of us – will be comfortable in using 3-D printing for our personal manufacturing needs.  He points to an example a few years ago when the inside door handle of his automobile broke off. Instead of ordering an expensive replacement from the manufacturer, he 3-D printed one at home.
"Right now 3-D printing is mostly limited to people with strong backgrounds in engineering and design work, or people who've worked with a lot of computer aided design software. We want to change that," says Weber.
To effect such a change, 3-D printing advocates will need to expose the technology to more mainstream audiences. In June, Squarefruit Labs will do its part when it will partner with fashion designer Tiffany Rae to produce a "heart health focused dress" for a St. Louis event called, "Say Yes to the Red Dress", co-hosted by the American Heart Association (AHA) and Dupont. The dress, which will feature an EKG sensor to monitor and display a model's heart rate in the form of pulsing lights around the garment, will be auctioned off during the event, with proceeds going to the AHA.
Weber says that event will be the prelude to a full-scale fashion show to be held in St. Louis in 2016, with all of the garments produced by 3-D printing.
Squarefruit Labs is coming off a big year in 2014.  The company received office space, mentoring and other services from the non-profit group Idea Labs, won a business plan competition sponsored by Square One, a training program designed to provide support to first time entrepreneurs in the St. Louis region, and received additional help from non-profit support groups BioSTL and the Balsa Foundation.
And in December, Squarefruit Labs was announced as the winning entry in the first Highland Gigabit Challenge business plan competition in Highland, Illinois, about 30 miles east of St. Louis.  In addition to winning a $15,000 cash prize, Squarefruitlabs received more than $15,000 of in-kind professional services, including free office space in Highland.  The company, based in the Cambridge Innovation Center in the Cortex incubator complex in St. Louis, established a satellite office in Highland shortly after winning the award.
Weber says the move puts Squarefruit Labs in a position to take advantage not only of the innovative entrepreneurship energy currently building in St. Louis, but also to leverage his company's proximity to top manufacturing firms in Southern Illinois.  "It gives us a Missouri-Illinois presence, and will help us grow," says Weber.  "Both the city of Highland and St. Louis have been trying to work more closely together, so this will help us deliver on both sides."
And, in keeping with Squarefruit Labs' mission, the move is helping "re-shape" the St. Louis region's entrepreneurial landscape.
Interested in the future of 3-D printing? Chico Weber will discuss it at a breakfast sponsored by the group Midwest Manufacturing Leaders on Friday, April 3 at the Cambridge Innovation Center located in the Cortex complex at 4240 Duncan Avenue in St. Louis, beginning at 7:15am. Tickets are free, but limited.  Go to mmlgroup.org for details.