At the age of 27, Jimmy Sansone describes himself as a lifetime entrepreneur, a guy who's always taken pride in the clothes he's worn, and an unabashed cheerleader for the Midwest.
It's only natural, he says, that those attributes have co-mingled to form the basis of his new company – The Normal Brand, which designs and produces a clothing line aimed at Midwestern consumers.
Of his entrepreneurial bent, Sansone, the son of Jim Sansone, one of the principals of the large St. Louis real estate firm the Sansone Group, notes, "from a very young age I was encouraged by my parents to start businesses on my own as a way to make money for myself. I started my first business when I was 12 years old with my brother. We were always doing something as kids – sealing driveways, running summer camps, selling poinsettias during Christmas."
His attention to clothing detail also came to Sansone at an early age. "In my family, what you wore mattered. And how you presented yourself was a sign of respect to the people you were with, and to yourself. At my First Communion, in the second grade, I was the only kid wearing white bucks and a pocket square."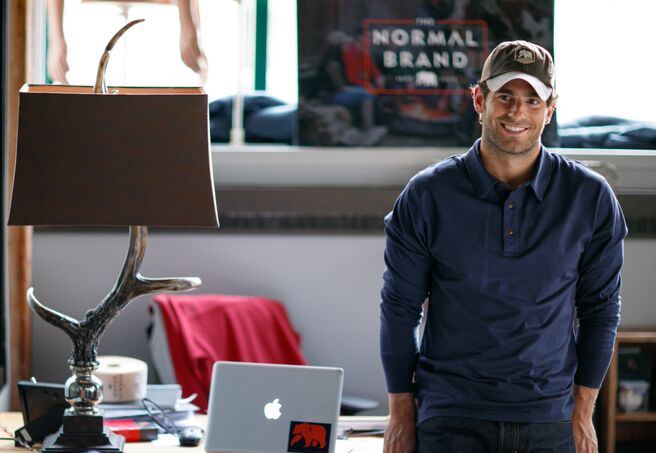 Click here to hear Jimmy Sanson's December 1 interview on KMOX Radio
And his love for the Midwest?
"I had a lot of opportunities when I graduated (from Washington University in St. Louis with a degree in finance) to work in New York or San Francisco, or wherever I wanted, but I really love life in the Midwest. Living in the Midwest, I think, is something to be celebrated."
Which is precisely what The Normal Brand, is doing with its line of casual clothing. "I had seen a lot of brands that I didn't understand – a lot of regional lifestyle brands that were designed for other areas of the country. And I saw a bunch of people in the Midwest wearing them. I said to a friend of mine, 'where do I find a normal shirt?'"
And thus was born The Normal Brand.
"We looked at the country as a whole and saw a need for a brand that celebrated life in the middle of the country."
Sansone says a couple of things separate his line of clothing from others.
"If you think about what a Midwestern lifestyle means, I'm a really good example. I work in the city but on the weekends spend a lot of time in the country.  I hunt, fish, go to farm parties. That's the way the Midwest is. There is a duality of life, a city and country aspect. I wanted to be able to go from the city to the country without having to change my shirt."
Sansone says that versatility, and durability, and an emphasis on comfort are hallmarks of The Normal Brand.
"It has to do with the fit and the fabrics we choose. We put an element of stretch in our fabrics, along with the finest cottons available. So there is durability, and some give, stretch, to what we're making which is why our customers constantly talk about the feel and comfort of our garments."
The Normal Brand's fall line includes henleys, sweatshirts, hats and T-shirts, mostly for men, he says. But the popularity of the brand prompted Sansone to offer a selection of women's styles too.
Manufacturing is done with the Star Design Group in the Soulard neighborhood of St. Louis. Sansone launched the company is March, with expectations of $70,000 worth of sales this year.  But the brand has taken off, with sales now estimated to reach a half million dollars for 2015.
This month, The Normal Brand was awarded a prestigious Arch Grant. Sansone says the $50,000 grant will go toward continued product development. "What's really been rewarding is the emails I get every day from customers saying they are proud to wear The Normal Brand and to keep doing what we are doing," says Sansone.
The Normal Brand line of clothing is available online at thenormalbrand.com and at 75 retail stores across the country, including eight in St. Louis.  Fun in the Sun in Kirkwood and Chesterfield, Woody's in Frontenac, Crescent Coast in Clayton, and a shop in the Scottrade Center downtown are among the places customers can find The Normal Brand in the St. Louis area.
And how will they be able to spot the brand?  Just look for its distinctive logo – a stylized bear, adapted from the image of a bear that appears on the state flag of Missouri.
"I think it's a very rugged, confident, powerful logo," he says. "Compared to our competitors it's a much more fierce or rugged look.  At Normal we're a lot less preppy than what's out there, we're a little bit more rugged, so the bear lends itself to that."
"If you read conservation reports," says Sansone, "there's a bit of a resurgence of the bear in the Midwest. And the region as a whole is resurgent, with startup communities in places like St. Louis, Kansas City, and Columbus.
"I think the country is starting to take notice of what is going on in the Midwest. And they are starting to take notice of The Normal Brand."