St. Louis entrepreneur Dr. Agnes Scoville says she's always had a flair for innovation – a bent for improvisation that was put to the test during a time of war, more than 6,000 miles from the city she now calls home.
As a Navy doctor stationed along the border between Iraq and Kuwait, Scoville's chief role was to administer aid to the U.S. Marines who took part in Operation Iraqi Freedom, the 2003 U.S.-led invasion of Iraq, and its aftermath.  But she quickly realized there would be much more to her mission than simply helping the men and women of the U.S. armed forces.
"We never knew just what was going to walk into the hospital," says Scoville. "We didn't have any setup for children. Once the war continued into the summer of 2003,  we started getting Iraqi civilians who didn't have any access to healthcare. So they would just come to our camp and say, 'can you help us?'"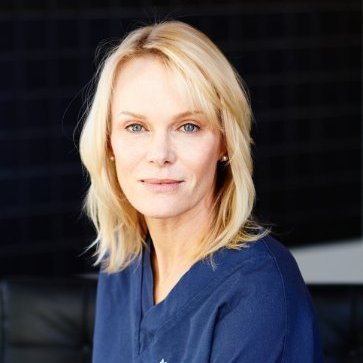 Click to hear Dr. Agnes Scoville discuss Pacidose on KMOX Radio/St. Louis
Her resourcefulness came in handy when a nine-month-old baby was brought to her medical facility. "This baby had a distended abdomen. Clearly, there was some sort of gastrointestinal obstruction. We didn't have any resources to take care of this baby.  We were going to transport the baby out to another facility but in the meantime we had to decompress – if you have a bowel obstruction you have to get the air and the liquid out. So we ended up using intravenous tubing using as a gastric tube to suck the liquid and the air out of the baby's intestines," says Scoville
"It worked pretty well. Sometimes you just have to say, 'what do we have at our disposal, and how can we MacGyver this situation?'", she says, referring to the 1980's television character who was adept at creating fixes in an improvisational way.
The incident with the Iraqi infant struck a chord with Scoville, because, she says, "throughout my career I've always had a soft spot for children."
And that "soft spot" has led to Scoville's creation of Pacidose — a kinder, gentler way to administer oral medications to babies.
In her current role as a part-time emergency room doctor at SSM DePaul Health Center in suburban St. Louis, she doesn't see many infants, since there are pediatricians in the ER, but at other hospitals at which she has worked, Scoville was responsible for pediatrics, with the care of babies comprising as much as 60% of her patient load.  So she's acutely aware of the difficulties that medical staff encounter when trying to tend to sick babies. "Babies come into the ER, and you can't explain to them what's going on. They're miserable, they're terrified. Throughout my medical career,  I've always thought "how can we make this easier for babies?  There's got to be a better way.'"
Her fifteen years of ER experience, and similar experiences with her own young daughter, led to Scoville's invention.
"Frequently it's the nurses who have to fight with the child, trying to get them to take oral medication.  The standard way to administer medication in a hospital is to take an oral syringe — which is a precisely calibrated tool — draw up the right amount of liquid, and then put it in the baby's mouth.  Usually, they don't like it.  They spit it out. It doesn't taste good. I mean, nobody likes a hard plastic thing in their mouth," she says.  When Scoville noticed she was having the same issue with her own infant daughter, Isolde, "I thought, 'this is ridiculous.'  The aha moment was, 'why can't we give medicine through a pacifier?'"
"So, I rigged a pacifier. I bought one off the shelf and drilled a hole through the center. I then inserted a plastic 18 gauge IV angiocath down the center, attached to a syringe, and superglued it into the pacifier.  It worked like a charm."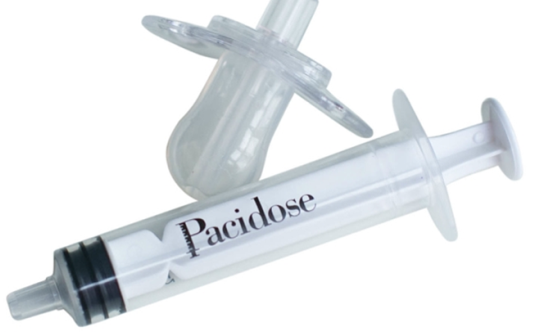 And thus was born a device that literally consists of a syringe that effectively "plugs into" the back of a pacifier, allowing mom and dad, or medical personnel, to more easily administer oral medicine to babies.  It is a product that is simple in design but such a good idea that it won a coveted $50,000 grant this spring from Arch Grants, the St. Louis non-profit group that supports innovative startups.
Scoville, who notes a patent for Pacidose is pending, says she's targeting consumers and small retail outlets for sales of Pacidose, rather than large medical facilities or big retailers.  "We're on the market right now. We're on  www.amazon.com, plus our own website, www.pacidose.com and the product is available at a few independent pharmacies. That's our approach – a bit of a grass roots movement as opposed to going into the big box stores and hospitals, which require really fast growth and very high level of supply."
Scoville says a test market run last year led to a sellout of the product – 500 units in four months.  "Right now we're back on the market. We just got our second supply in, and we are raring to go."