It's election day in thousands of cities, counties, school districts and other jurisdictions around the United States. 
But for St. Louis entrepreneur Scott Leiendecker, today may as well be called Countdown Day.
November 3 marks the symbolic one-year run up to next year's Presidential election, when bigger-than-normal voter turnout will undoubtedly mean longer-than-usual lines at your neighborhood polling station. 
Reducing those lines is the aim of Leiendecker's company, KNOWiNK. He'll spend the next year working to get his product, called the Poll Pad, into the hands of as many election authorities as possible, building his customer base, which already includes about a hundred counties in a dozen U.S. states.
Leiendecker, a former St. Louis elections director, says the difference between waiting in a long line to vote, versus completing the voting process quickly, is a big one.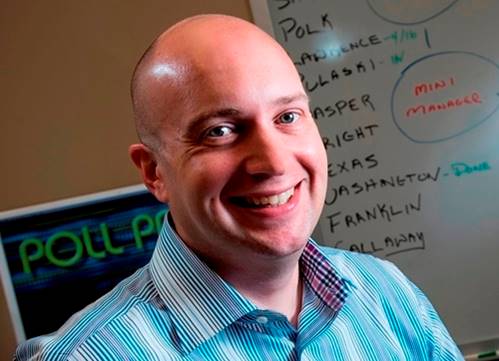 Click here to hear Scott Leiendecker's KMOX Radio interview from Tuesday, Nov. 3
"When people have to wait in a long line at a polling place, that's a deterrent to voting. It could mean the difference between voting and not voting — just giving up and going home — and that's not good for the democratic process," he says. If you've cast a ballot in a high-profile election you know what Leiendecker is talking about. You stand in line to get to the registration table. Once there, you line up in the alphabet-appropriate line. Good luck if your name is Smith and there are 25 "S's" in front of you, while there's nobody standing in the "Z" line.
Once you reach the coveted first spot in line, you show your identification to a poll worker who must flip through a hard-bound, bulky book, find your name, turn the book around to ask you to verify, then have you sign it, before you are allowed to proceed.
Leiendecker's Poll Pad changes the game. No more alphabet specific lines. You reach the registration table, where a poll worker scans the bar code from your ID into an iPad, and matches your name to the one already loaded into the computerized system. The worker turns the iPad around, you click a button to verify, and off you go to vote.
Leiendecker estimates the process shaves 30 seconds to a minute off each voter sign-in "transaction." Multiply that times hundreds or thousands of voters at each polling station, and you begin to see how those seconds can add up, and reduce long lines of voters. 
But Leiendecker says it's about more than time saving. He says the new process will save election officials money – by reducing the costs of hiring temporary workers and paying overtime to facilitate the current cumbersome process.  
Leiendecker will be spending today in Ohio, where nine counties will be using the Poll Pad and another six are piloting the technology, meaning about a thousand Poll Pads will be in use in the state on election day.  He'll be in Ohio because, "Ohio probably is going to be the number one state of focus in the 2016 election. We want to be there to give the election workers as much training and support as they need leading up to that election."
Leiendecker says if all goes well on Tuesday, he expects a surge in sales, with as many as 5,000 Poll Pads sold in the next month.  After Tuesday, he says he expects to be doing a lot more of what he has been doing – growing sales organically.
"I've spent a lot of time knocking on doors, talking to election officials one by one," he says, adding that word of mouth has been key to sales.  "One county gets hooked on it, and they typically tell their neighboring county 'this is a great product.' A lot of them comment it's the best election-related product that they've ever bought."
Leiendecker says election officials are beginning to realize we've reached the time when better technology can help improve processes in the U.S voting system.  "If McDonald's and Costco can do it," he says, "so can the voting system," he says.