St. Louis entrepreneur Jay Swoboda is a very busy guy.
A check of his LinkedIn profile shows Swoboda is the owner of EcoUrban, a St. Louis-based sustainable solutions consulting and development firm that he launched in 2006. In 2013 he helped start Mission to Zero, to provide waste & energy-efficiency consulting support to businesses around the world, and for the past 13 years, he has served as founder & editor of Whats Up Magazine, a nonprofit urban issues publication sold by area disadvantaged and homeless. He's an adjunct professor at Washington University, and when he isn't running his many companies, he is running – literally – taking part in several ultra marathons in the last few months and planning to run his first 100 mile race in November.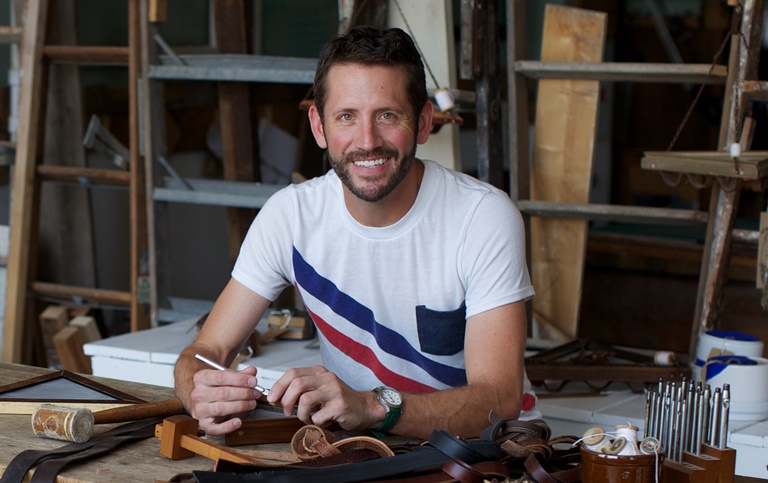 Hear Jay Swoboda's interview on KMOX Radio
Clearly, Jay Swoboda likes to dabble, so it is appropriate that his new venture is called, Dabble. Upon securing a $50,000 Arch Grant in May of 2014, Swoboda hired partners to operate his existing companies, to focus solely on Dabble. He currently serves as CEO  and director of operations for Dabble, which bills itself as the number one online marketplace for connecting people with classes in their community. Dabble allows users to teach or take classes on a wide range of specialty subjects, from bike repair to nail art to Zumba, and many in between. In St. Louis, Dabble boasts of a thousand users and 45 classes.
We asked Swoboda about Dabble, which relocated to St. Louis last year, and about his busy life….
INNOVOX:  Tell us about the inspiration for Dabble..
Dabble started with a simple insight: It's difficult to keep learning, trying and doing new things. Although we might consider ourselves curious, adventurous sorts, we find lots of excuses that prevent us from committing to a class, cultivating hobbies or finding a substitute for our typical night-out routines, like drinks or dinner. The founders of Dabble had a surplus of interests but a fixed supply of time and money. However, you can't be interesting without interests and so Dabble was born.
INNOVOX:  How did originators Erin Hopmann and Jessica Lybeck come up with the name?
We've all used the verb "dabble" to describe our unique human ability to not fully commit or to describe the way we put our toe in the water. Rather than push folks to jump right from the high dive, Dabble encourages you to hit the mini-bar of life and simply try something new. We make it easy to explore an interest or share your passion through one-time affordable classes. Hence, the name Dabble.
INNOVOX: You're quite a 'dabbler" yourself. 
People are starting to change jobs and careers more frequently and I figure I'm not a linear thinker so there's no reason for me to have a linear path to the jobs and projects I support. Why take 10 years to explore five jobs when you can explore five all at once? I love having a lot of things going on and I certainly am a dabbler at heart. I'll have four (IRS Form) 1099s from my various projects this past year. I take fiddle lessons twice a month and as the CEO of Dabble, I have to admit that even I struggle to find time.
INNOVOX:  Can you walk me through how Dabble works, from a user perspective?
It comes down to four key principles. Browse: Go to https://dabble.co and sort through your city to find a class that fits your interest, schedule and budget. Buy. Decide whether you want to fly solo or bring some friends, then pay securely for class with just one click. Dabble. Get there early and get to learnin'! Walk away feeling amazed & informed. Review. Tell Dabble what you thought about your teacher and class experience. We'll make tweaks as we can.
INNOVOX: What about teachers?  How do you ensure their legitimacy?  Tell me about your due diligence process for them.
Every class that is submitted is touched by our team for quality and content. At this time we are approving most classes that are submitted and we allow the marketplace of users to determine demand. Also, we rely on our review process to keep our quality at a high level that currently show a 97% positive review rating for all Dabble teachers.
INNOVOX: How do you make money?
Dabble makes most of our revenue by taking a percentage of each ticket sold. We don't make money unless our teachers makes money. Since we launched, that equates to $755,000 in total revenue of which we return on average 75% to our teachers.
INNOVOX: What about you personally?  You are a pretty busy guy.  When do you sleep? How do you juggle all of your business interests?
Clearly I don't sleep enough. When you love what you do, it doesn't feel like work and all of my projects inspire me in different ways. I believe that Dabble has the amazing potential energy to be a hugely successful global company. My work in sustainability and green home building with Mission to Zero and EcoUrban help pay my bills while I focus on building Dabble and I'm lucky enough to have build two companies that smile on the world and make money. I love supporting the community and my work supporting the development of the Food Roof with Urban Harvest and supporting homeless empowerment with my nonprofit Whats Up Magazine for the last 13 years keeps me grounded and giving back. In addition to keeping me looking good while single, I believe my steady non-meat diet and frequent running as I train for various ultra marathons is a huge part of what keeps me energized and focused.
INNOVOX STL:  St. Louis has taken a real hit lately in terms of PR.  As an entrepreneur, any thoughts on how the local startup movement can change those negative perceptions? 
If you want to put blinders on and continue on the status quo, it is an entirely possible to build your company and be completely disengaged from these negative perceptions of St. Louis. I challenge startups to give back even before they "make it big" by donating a percentage of their revenue to local nonprofits working in education, social justice and cultural awareness. Bring your team closer together by volunteering as a group to remove graffiti or clean up trash. Perhaps the best thing local startups can do is to invest locally. Support local businesses whenever possible. Sign up to be part of Big Brothers Big Sisters. Buy a home. Pay taxes by making your company successful. To remain aloof and unengaged would be missing a much greater opportunity to give your company roots in challenging those perception and ending up on the right side of history.