Those who haven't grown up in St. Louis but hang their hats here professionally know it's not easy being a St. Louisan.
From learning some of our strange culinary habits (provel cheese?) to mastering the intricacies of our dialect (fark? warsh?), to setting aside an allegiance to your own hometown baseball team to immerse yourself in an ocean of Cardinal red each October, becoming a true St. Louisan can be a challenge.
Here's a challenge a native of St. Louis may not have considered.
What is it like for a single, or couple, neither of whom has roots in St. Louis, to find a good local babysitter for the kids?  It's not as if you can call mom or your longtime friends – they're a thousand miles away.
It's a problem that's being addressed by startup STL Sitter, a local, full-service online babysitting agency founded by a 26-year-old woman who IS a St. Louis native.
Founder Morgan Clark says, "40 percent of our clients are transplants. They aren't from St. Louis.  They don't have contacts in St. Louis, so they don't have that child care connection that they can call for a date night or a sick day, or when the kids are sick. That's when we step in."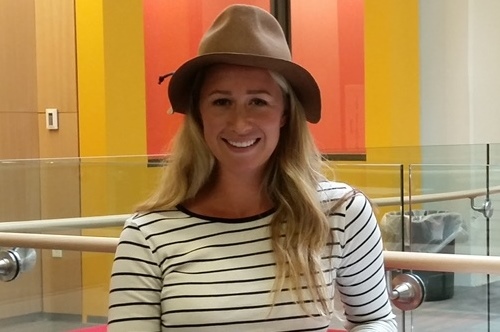 Hear STL Sitter's Morgan Clark interviewed on KMOX Radio Tuesday Oct. 13 by clicking here
Clark, launched the service in March of last year, with three sitters.  "And now we have 45.  We started with five clients and now we have 105," she says.
The service has been called, "The Uber of Babysitting", and as you listen to Clark describe it, you'll understand why.
"As a client," says Clark, "the first step is to register with us, and that costs $50 dollars. It's a one-time fee that gets you in our system. You get a welcome call from me. I let you know how it works. I see if your children have any special needs, things like that.  I send you a welcome packet, a handwritten note. I welcome you to the team, and from there you log in with your user name and password.  You enter the time and date that you need a sitter. And my software sorts the girls who are available."
And who are the sitters?  Says Clark, "They're all college students, and they enter their availability into my software. They can work whenever they don't have class.  My software sorts the times you need a sitter. So if you enter from 6pm until 11pm on a Friday night, you might see three faces on the screen. You might see five faces.  You're going to see everyone who is available at that time."
She adds, "You can read a bio about them. You can read where they're going to school, their hobbies and interests, and the experience they have with children.  Then you go ahead and book her. You're going to pay a scheduling fee, which depends on how much notice you give us.  Usually that's $10, and it's paid directly by your credit card.  You get a confirmation and the sitter will show up at your house just like a regular sitter. You pay her with cash or check."
The hourly rate for a sitter is $10 per hour for one child, $11 for 2-3 children and 12 for four kids. Prices increase by a dollar per child after that
Clark was inspired by her own experience as a sitter with Sitting Made Simple, a similar business model that serves families in Columbus, Ohio.  Clark says her employment with that service, while she was in college, helped augment her income.  That's something she says her staff is doing here. "We have girls who are just very busy with school and so they can't work a traditional job.  They don't have time to waitress or work in a daycare but they love children and they want to create their own schedule. So they can pick up an extra babysit on a Friday night and make $60. It's perfect for them," she says.
Clark says she conducts background checks on potential sitters, checks their driving records and references, and requires sitters be CPR certified.
"At the end of the day," she says, "these girls are strangers and they're going into homes of strangers, to watch their children.  Anything I can do to give mom that piece of mind, I'm going to do."
"Right now we have some Washington University women, some St. Louis University women, some from Webster.  We have communications majors, marketing majors, special education majors, pre-med.  We put them through a pretty intense interview process. I have pretty high standards for each of my sitters."
Clark says the company also offers an option in which a client can "buy out" a sitter for an entire semester for a one-time fee of $250.
One thing STL Sitter does not offer is young male sitters, but Clark says that may change. "We actually have had requests for young men, particularly from families needing a sitter for three or four boys.  We haven't hired any yet, but it might be on the horizon."
Its clients and providers aside, STL Sitter has developed a big fan in Anthony Bartlett, the founder and president of St. Louis Transplants, which works to provide culture and friendship to new-to-St. Louis employees of local companies.
"Traditionally, parents are often reticent about leaving home to attend community events until a trusted babysitter is found. As a company that organizes friend-dates, dinner parties and get-togethers for new arrivals, STL Sitter lets us begin integrating clients into the community far sooner than usual," says Bartlett.
So while new St. Louisans may continually struggle with their appreciation of toasted ravioli, and may always fumble the question of, "where'd ya go to high school", they can at least be assured they'll have a trusted alternative when it comes to babysitting their kids.