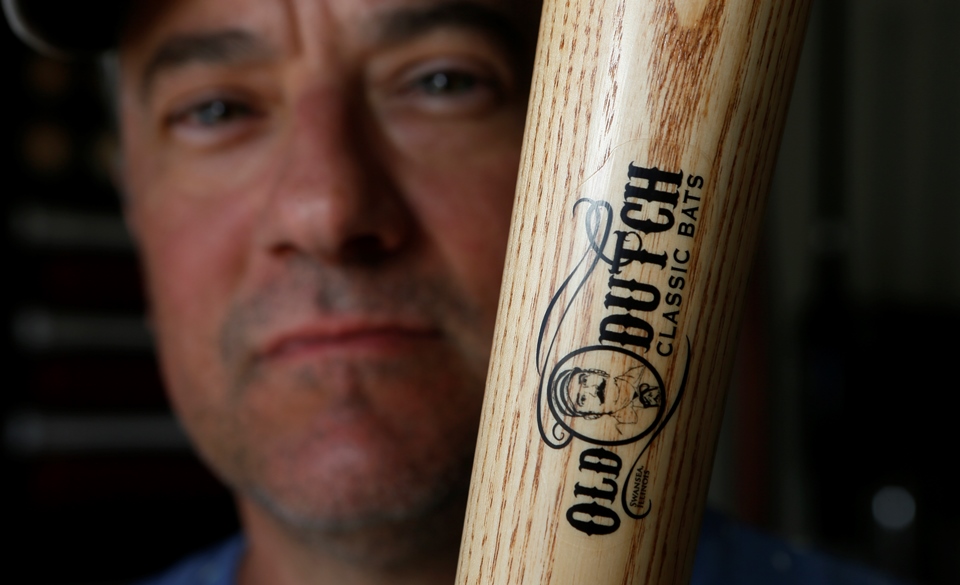 Click to hear Todd Eschman's June 24 discussion with KMOX Radio's Charlie Brennan
If you're among those who believe we're an amalgam of the experiences of our ancestors – blended together with our own passions — then you'll have no trouble divining the roots of Todd Eschman's Southern Illinois startup company Old Dutch Classic Bats.  To wit:
–Eschman's grandfather and great uncle founded a lumber yard in Belleville and were adept at wood turning.
–His father was an engineer.
–Eschman himself harbors a deep affinity for the rich history of baseball.
Swirl "all of the above" together and you get Eschman, the founder of a company that creates custom baseball bats for vintage baseball players.
From a lathe in the garage of his Swansea, Illinois home, Eschman hand-spins wood derived from Michigan ash and maple trees into authentic replica bats with names such as, "The Lajoie" and "The AG Spalding".
He says of himself, his wife Shelly and daughters Sydney, 11, and Mia, 10, "We're up to our eyeballs in sawdust."
Eschman's idea to manufacture and sell custom-made bats developed three years ago from his passion to play vintage baseball, a rapidly growing sport that recreates the game as it was played in the 1860s.  Players employ replica uniforms of the period, as well as the rules, language and equipment of the era.  Like their 1860's counterparts, the players don't use gloves.  But they do use bats, and that is where Eschman comes in.
"The guys who are serious about an authentic presentation use modern bats with the logos sanded off and some vintage decorations. I wanted to step things up so, in October 2012 I bought myself an inexpensive lathe and started teaching myself the craft. With a whole lot of research I was able to replicate a few of my favorite historical models. The demand was immediate. Within a year, I was able to purchase a professional-grade lathe with a duplicator and I've been in production ever since," he says.
There are indications Eschman will get busier.  "There are about 250 vintage baseball clubs across the country who are active, and some clubs have up to seven or eight teams, each with a 15-man roster," he says.  "So I think there are well over 10,000 vintage baseball players out there.  We're at the ground level of where the vintage baseball phenomenon is going to go."
Eschman has a website (www.dutchbats.com) and sells each of the vintage bats online for $70.
He took his game to a new level earlier this year when he entered, and won, the Metro East Start-Up Challenge, the region's first business start-up competition. Eschman grabbed the $10,000 first-place prize, which he plans to plug back into Old Dutch Classic Bats' expansion.
Eschman has produced about 100 of the vintage bats so far.  His winning of the Metro East competition begs the question, will vintage bat making become more than just an expensive hobby for Eschman, who by day is general manager of community publications for the Belleville News-Democrat newspaper?
"I have a couple of plans.  I've laid out a schedule of what happens when I hit certain production milestones.  At some point I would finance a larger production lathe.  That's in the works.  So is this a hobby or a job?  I never really saw myself as a manufacturer per se.  I saw myself as a guy trying to make a little income from a hobby that he loves," says Eschman.
"For now, my motivation is to continue to have fun and be creative."