By Renee Moore, Staff Writer
You know Chris.
He owns a manufacturing company that has three employees. His day is filled with running operations, accounting, production and sales appointments. After being in business for more than five years, Chris knows there are no shortcuts to growing a company. But what Chris doesn't know, say founders of a St. Louis startup, is that there's a simple step he can take to stay top of mind with current and potential customers. Hatchbuck, an all-in-one sales and marketing platform, is designed specifically for Chris and millions of small business owners who want to grow revenue without growing the team.
Hatchbuck, a St. Louis based tech company, integrates Customer Relationship Management (CRM) software, email marketing tools, and marketing automation all in one easy-to-use package.
There are currently more than 3,000 users in 1,000-plus small businesses around the globe that use Hatchbuck as a sales and marketing solution to grow their business. Hatchbuck clients own traditional business-to-business services or professional services such as those dealing in finance, legal, accounting, manufacturing, software, IT, tourism, and healthcare.
"Our perfect customer is Chris," says Jonathan Herrick, Hatchbuck's chief sales officer and chief marketing officer. Herrick gets very specific when describing Chris, the typical Hatchbuck customer. "He's a self-made business owner with two to five employees, has $500,000 in revenue, and provides B2B business or professional services."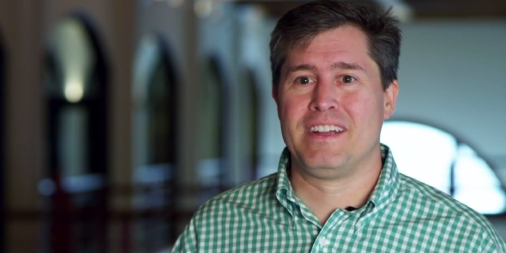 Click here to hear Hatchbuck CEO Don Breckenridge on KMOX Radio, St. Louis
Hatchbuck Co-Founder and CEO Don Breckenridge claims that Hatchbuck "identifies a client's or prospect's needs and interests and automatically sends the right message to the right person at the right time."
Herrick explains that business owners face a common challenge when growing a company. "A large majority of businesses use spreadsheets, Outlook and email newsletter systems to engage and attract customers. They need a process. Owners want a way to organize their database so they can build better relationships with their customers and make personal connections with prospects."
According to Jupiter Research, relevant emails drive 18 times more revenue than broadcast emails such as monthly newsletters. Additionally, a report from DemandGen found that lead nurturing emails delivered through an automated system like Hatchbuck receive four to ten times the response rate of an email blast.
There are a number of sales and marketing tools available on the market. SalesForce and HubSpot are the most recognizable but their software is priced and positioned for large enterprises, not small businesses.
While their founders say Hatchbuck is affordable to just about any small business with a price point starting around $100 per month, they say it's an exemplary level of customer service that sets Hatchbuck apart from even the largest software companies in this market.
"At Hatchbuck, the customer experience is everything. In fact recently Hatchbuck was ranked highest in customer satisfaction by leading review site G2 Crowd," notes Herrick. "It's remarkable because we're one of the youngest players in the space. We were compared to providers that have been out there since 2001 and 2002 and have secured $100 -$200 million in funding."
Additionally, TrustRadius named Hatchbuck as a top rated solution in the small business category with a score of 8.3 in the 2016 Marketing Automation Buyer's Guide.
"We have a tremendous culture at Hatchbuck. We empower our people to have purpose and autonomy. When you do that, then the outcome is a client who has an unbelievable customer experience. We do everything to make the customer front and center," says Breckenridge.
Hatchbuck provides an on-boarding process with a personal consultant who stays with the customer from the implementation of the software all the way through getting the customer up and running. Herrick points out, "There are so many companies pushing customers to videos and online tutorials. We have that too, but we believe that small businesses need a champion to help get them off the ground."
Once the customer is up and running Hatchbuck has a live support team that is easily accessed with a simple phone call.
Hatchbuck is launching its newest version of the product later this year, complete with a new interface, new drag and drop email builder and mobile application.
With a confident smile, Herrick states, "Our new version of Hatchbuck is an even better fit for Chris."  You know Chris.  He's the business owner who uses Hatchbuck to grow his revenue without growing his team.