By Renee Moore, Staff Writer.
The executive director of Arch Grants is inviting everyone to be part of her organization's story.
Arch Grants is a nonprofit organization that accelerates economic development and community revitalization by providing $50,000 equity-free grants and pro-bono support services to entrepreneurs who locate their early-stage businesses in St. Louis.
As a nonprofit, Arch Grants relies on the generosity of the general public to advance its mission to rejuvenate the regional economy.
"The whole community can engage," says Ginger Imster. "Accredited investors, industry experts, service providers, and the general public all have a role."
Accredited investors provide the fuel local startups need to keep growing, says Imster. Industry experts provide essential expertise in the evaluation of applicants, as mentors, and sometimes as Entrepreneurs in Residence. Service providers can and do partner with local startups to provide critical professional services at a reduced rate, she says.
Support of early-stage companies in St. Louis continues to evolve, but Imster adds "cash is still king." So, Arch Grants is setting out to broaden its base of financial support. "This is our fifth anniversary year, and we'd like to make our 100th grant to mark the occasion. To do that, we must raise $1.2 million toward our grants program. Donations of any amount are welcome."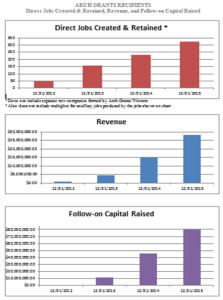 Imster recognizes that "there are many individuals in our community who can afford to invest in local startups, but who lack the confidence and expertise to be an angel." She identifies that type of individual as someone who would be attracted to Cultivation Capital or the iSelect Fund.
Cultivation Capital is a venture capital firm that supports entrepreneurs. The firm has backed more than 30 technology and life sciences companies since it was founded in 2012, making it one of the most active seed investors in the country.
iSelect Fund provides a platform that evaluates, selects and performs core due diligence on emerging growth companies that are seeking capital in private securities transactions. Accredited investors work through financial advisors to select these investments as part of a diversified portfolio. iSelect's minimum investment is $50,000.
Imster encourages St. Louis investors to invest in early stage companies and says she hopes established companies do more business with St. Louis' local startups.
"There are ten fortune 500 companies in Missouri and nine of them are in St. Louis," says Imster, who makes the case that St. Louis is an attractive place for "a lot of startups that want to do business with our Fortune 500 companies, our Fortune 100s, and our market leaders that are privately held."
Through its rigorously competitive Global Startup Competition, Imster says Arch Grants retains and attracts the most innovative entrepreneurs to the St. Louis region.
Imster says she's proud of the success and attention some Arch Grants recipients are receiving.
To wit: Dr. Agnes Scoville, CEO of Pacidose, was selected as one of ten finalists for the U.S. Small Business Administration (SBA) national InnovateHER competition, a competition highlighting innovative products and services created and launched by women entrepreneurs. Pacidose allows mothers and caregivers to accurately dose and deliver medicine to babies through a soft pacifier nipple.
Babyation is launching a Kickstarter campaign on February 23rd.  Co-founders Samantha Rudolph and Jared Miller have created a quiet and discreet patent-pending breast pump that allows a mom to inconspicuously pump anywhere.
The team at Applied Particle Technology won a STTR Federal Research Grant from the National Science Foundation.  The company specializes in an innovative, energy-saving, high-efficiency, air purification technology to address the challenge of providing clean indoor air in commercial buildings and specialty filtration applications.
WIRED magazine highlighted a solid walnut desk from Artifox as a "must have" in a January 23rd article titled, "What You Need to Set Up the Ultimate Workspace".  Sarah and Dan Mirth, co-founders, design furniture for urban life.
Sarah Mirth and Kyle Tabor, CEO of Invisible Applications, a software company that creates natural language conversation services powered by artificial intelligence, were selected to be part of the next cohort of Pipeline fellows. Pipeline is an organization of the Midwest's most successful, high-performance entrepreneurs.
Under Imster's mentorship, Pravina Pindoria, Co-founder of Tallyfy, was named one of four finalists in the St. Louis Business Journal's Catapult Competition sponsored by MasterCard. Tallyfy is a software application that ensures compliance and accountability by making it easy to execute and track business processes in real-time.
Swizzle Labs, led by Ian Lee and Nick Szabo, announced a partnership with Zamong, a large multi-channel network in South Korea.  Swizzle Labs is a big data analytics solution for marketers and influencers to understand the full impact of their online power by aggregating trending and keyword analysis.
The Normal Brand apparel team was invited to set up a display space at the Sundance Film Festival in January.
The next round of Arch Grants cohorts will be announced on June 22, 2016. The announcement will be in partnership with DowntownSTL. The event is open to the public.  Visit www.archgrants.org for more information about ticket sales.