By Renee Moore, Staff Writer
GWR Safety Systems has a message for manufacturers: You don't have to manufacture abroad to be competitive. Ted and Claudia Gast bought GWR, a Barcelona-based designer and manufacturer of seat belts, with the aim of establishing St. Louis as the company's North American headquarters.
As the company expands the GWR brand in North America, they say it's a big advantage for them to be able to manufacture in St. Louis. "St. Louis is the perfect location for us because it's centrally located to our customers, and has a deep manufacturing base in the automotive industry," says Ted Gast, president of GWR. "While our competitors continually look offshore, our goal is to increase production in St. Louis to better serve the U.S. market."
GWR Safety Systems is a global leader in designing and manufacturing seat belts for coaches; shuttle buses; school buses; and recreational vehicles (RVs), and safety belts for off-road vehicles including ATVs; UTVs; construction and agricultural equipment and military vehicles. The company was founded by Luis Capella, a formula car racer, in 1987. Its products are featured in more than 200 vehicle models manufactured by over 80 different customers worldwide.
"Our competitors outsource to Mexico and China," says Ted Gast. "Having our production based here helps with lead times and customization of our product. This is where we differentiate. Our competitors offer only a few varieties of belts. That doesn't work in a fragmented vehicle market where manufacturers are looking for customized solutions to stay competitive. Customers rely on us to supply weekly, and in small batches. We have a wide variety of products in inventory because we understand that sometimes we have to deliver a solution in a short turn-around time. A seat maker, or bus maker or vehicle maker, has a lot of things to worry about. We worry about the seat belts so they don't have to."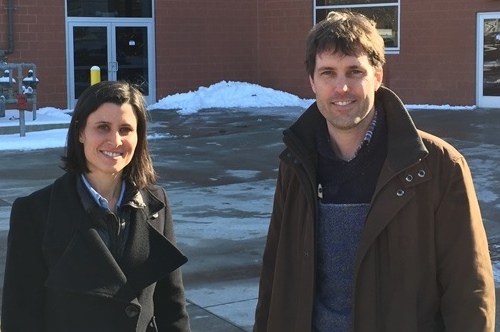 Click here to hear Claudia and Ted Gast on KMOX Radio/St. Louis
GWR was recently awarded an Arch Grant. The $50,000 award is being used to help buy new manufacturing equipment.
Claudia Gast says the emphasis that GWR places on producing a quality product can't be overstated. She says the seat belt components used are the same found in top of the line automobiles. Gast says their tooling is, "original European tooling. Our tooling is housed at Tier 2 automotive original equipment manufacturer (OEM) suppliers. Our focus is providing extra safety and comfort for the end user."
Gast says GWR focuses on customer service. "As the middle market expands with new models, vehicle manufacturers are looking for a supplier who can provide new solutions," explains Ted Gast. "We listen to what seat and vehicle manufacturers want and then design seat belts specifically for them."
GWR's engineers enter the process early, even before their customer designs the seat. Gast says the company has an exceptional ability to perform that layer of customer service because of its deep experience designing customized seat belts. Gast notes this is unique for a company of its size.
GWR successfully grew market share across Europe, despite a struggling European economy. Claudia Gast describes their growth strategy: "We're focused on innovating products for seat and vehicle manufactures who have a unique need that no other seat belt manufacturer can solve." GWR currently has over 1,000 different seat belt products.
One recent product innovation was a seat belt for buses that adjusts for both adult and youth passengers. That innovation will apply directly to North American bus manufacturers, as mandatory regulations for seat belts in coaches and buses spread across the United States.
Ted Gast says GWR's aim is to deliver auto industry quality with great customer service, all while focusing on the ultimate goal of saving lives. "If the person is uncomfortable, they don't want to sit in the seat. And if the seatbelt is uncomfortable they won't wear it," observes Gast. "Our goal is for everyone to wear a seatbelt."